IOWA CITY, Iowa – The University of Iowa soccer team was defeated, 2-1, by Michigan State on Sunday at the Iowa Soccer Complex.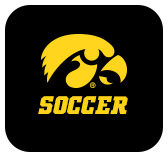 A strike from junior Samantha Cary in the 14th minute of action gave the Hawkeyes an early lead. Cary launched the cross-field score off an assist from sophomore Maggie Johnston. From there, the Iowa defense withstood a barrage of 14 Michigan State shots in the first half to head into the locker room with a 1-0 lead.
Michigan State scored its first of two second half goals when Ava Cook stole the ball from goalkeeper Monica Wilhelm in the 71st minute and raced to the net for the tying score. The Spartans found the goal a second time 10 minutes later when Jordyn Wickes rebounded a Wilhelm save and netted the winning score with nine minutes left in the game.
HEAR FROM HEAD COACH DAVE DIANNI
"We've shown a lot of fantastic growth in many areas and I am so proud of these ladies for that. However, it is imperative that we learn to limit the type of mistakes that are costing us valuable points and rewarding the team for effort and commitment each day. This is the deepest Big Ten Conference we have ever had, and so the margin for error is razor thin between winning and losing. Both teams had great chances throughout the 90 minute game. Unfortunately, Michigan State capitalized on one more than we did."
HAWKEYE NOTABLES
Cary brings her season totals to two goals and five points on the year.
Wilhelm's eight saves mark a season high for the redshirt junior, just one short of her career high nine saves; Iowa recorded 10 total saves on the afternoon.
The Hawkeyes took 19 shots, including six on goal; the Spartans fired 25 shots including 12 on goal.
90 TRACKER: Sarah Wheaton (12), Rielee Fetty (nine), Samantha Cary (eight), and Hailey Rydberg played the entirety of Sunday's game. Eleven total Hawkeye position players have registered at least 90 minutes in a game so far this season. They include Addie Bundy (four), Riley Whitaker (two), Olivia Hellweg (two), Miah Schueller, Aleisha Ganief, Courtney Powell, and Kenzie Roling.
UP NEXT
Iowa heads to Piscataway, New Jersey, on Oct. 10 to take on Rutgers at Yurcak Field.