IOWA CITY, Iowa — Seniors Hailey Rydberg and Sara Wheaton were voted the University of Iowa soccer team's Most Valuable Players for the 2021 season, it was announced Monday.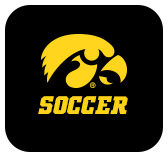 Wheaton, a second-team All-Big Ten honoree, was also named Iowa's defensive player of the year. Senior Alyssa Walker was named offensive player of the year, freshman Addie Bundy was named the top newcomer, and Samantha Cary and Riley Whitaker were co-recipients of the Hawk Award.
Rydberg, a third-team all-Big Ten selection, earned team MVP honors for the second straight season. She recorded two goals and a team-high seven assists, totaling 11 points from the midfield. She played 1,643 minutes, the third most on the team. Rydberg and Wheaton were the only Hawkeyes to start each of Iowa's 20 games.
Wheaton played the entire contest in 19-of-20 games and logged a team-high 1,826 minutes. She was voted Iowa's defensive player of the year for the second straight season. In 2021, she scored one goal and contributed three assists while anchoring a defense that allowed fewer than one goal per game.
Walker paced the Hawkeye offense, scoring nine goals and adding a pair of assists while totaling 20 points. The nine goals in a single season tie for 11th in program history. Four of Walker's nine goals were game-winners. She started in 19-of-20 games played and was named third-team all-Big Ten.
Bundy started 18-of-20 games and was a unanimous selection to the Big Ten All-Freshman Team, one of only two conference freshman to earn the unanimous distinction. Bundy ranked second on the team and tied for eighth in the conference with six assists. She was recognized this season as one of the top 100 freshman by TopDrawerSoccer.
Cary was honored with the Hawk Award for the second straight year. She started 19-of-20 games and ranked second among Hawkeyes with 1,749 minutes played in 2021. She recorded a pair of goals and totaled seven points while leading a defense that allowed just 0.97 goals per game and registered seven shutouts amongst its 12 wins.
She shares the honor with Whitaker, who returned to the field after missing the 2020 season due to injury. Whitaker started 12-of-15 games played. She was named to the Big Ten All-Tournament team for the second time in her career, and was Iowa women's soccer honoree for the Big Ten Sportsmanship Award.
The 2021 Hawkeyes posted a 12-6-2 record and placed fourth in the Big Ten, Iowa's highest finish in the regular season since 1999. The 12-win season was the seventh in program history and the third in head coach Dave DiIanni's eight seasons. Iowa's win in the opening round of the conference tournament at Michigan State was DiIanni's 80th win in school history, tying Ron Rainey as the program's all-time leader. DiIanni earned his 300th career win Oct. 21 at home, a 1-0 win against Minnesota.