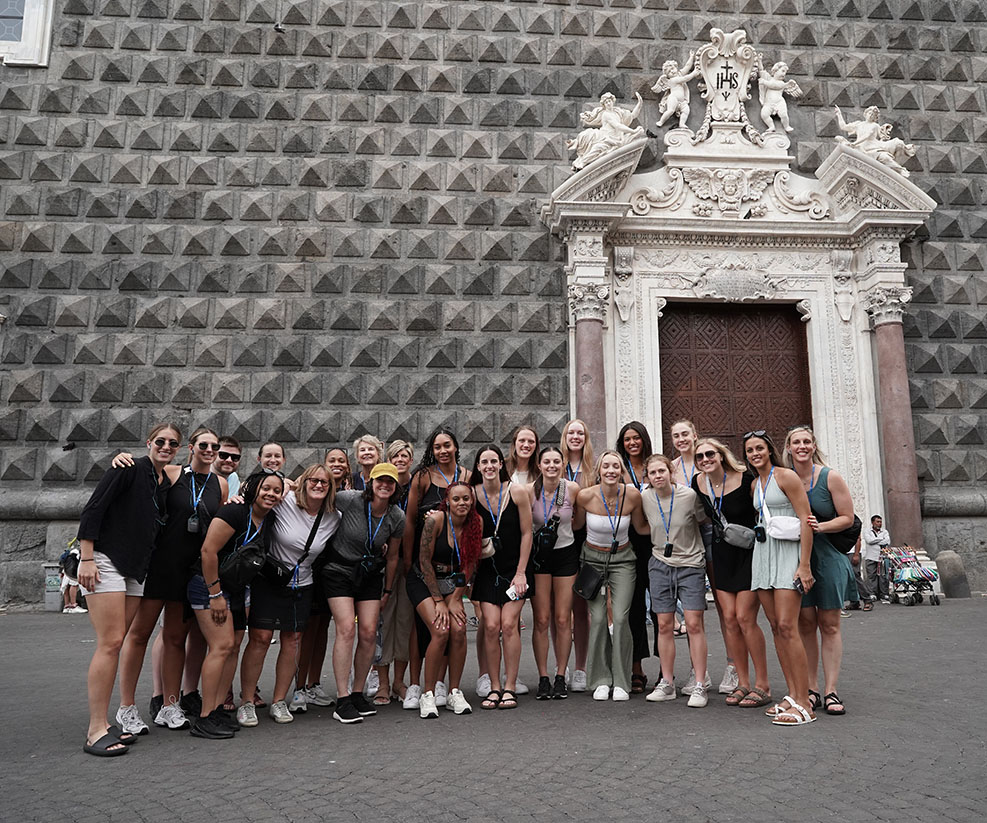 Aug. 13, 2023 — Views for Days 
Welcome back to the blog, Hawkeye fans!!
The two days after we visited Pompeii were probably my favorite so far. We spent the first day in Amalfi and Positano. The boat ride to the coast was so gorgeous, I've never seen anything like it. Some of the most beautiful places in the world are in Italy and the Amalfi Coast is one of them.
When we got off the boat, we had a short walking tour of the city. I never knew that lemons were such a big thing in Italy, but you should have seen these lemons… they were gigantic —  like the size of melons. I've never seen lemons that big. Once the walking tour was over, and we knew how to get around, we split up and had free time for the rest of the day. My group decided to go and eat first, and we went to this cute little restaurant. I had the ravioli, it was amazing. Then a few of the girls and I decided to boat over to Positano and explore.
The walk to the top of the island was insane, there are so many stairs, but the view is so worth the trek. I always wonder how people who live there do those stairs every day, but it seems they are all used to having to walk everywhere they go. Of course, when we got to the higher part of the city, I had to shop a little bit, and I ended up with more clothes to pack and less money to spend for sure lol.
We stopped and saw a cathedral as well; it was so beautiful. There is so much detail that goes into the painting and decorating in these cathedrals, and they're just breathtaking. Before we headed back, I obviously had to get some gelato, it's my new favorite thing by the way.
Team meal was next, and one thing I've learned about Italy is that meals take FOREVER. They bring out one course at a time and there are about 30 minutes between each course. That's a culture change for all of us, so we got a little restless waiting for our food, but it really makes you slow down and enjoy your company.
We spent the next day on the beach in Sorrento, and I'm pretty sure it was everyone's favorite day. The water here is this beautiful blue-green color, and it's so clear. It's also super salty. We found a spot and just chilled all day. It was so relaxing. After several days of sightseeing, it was nice to have some chill time, taking in the beautiful city of Sorrento.
I know I've been slackin' on the blogs a bit, but there will be another one on the way as soon as possible.
Thanks for following along!
Hannah Stuelke
View this profile on Instagram