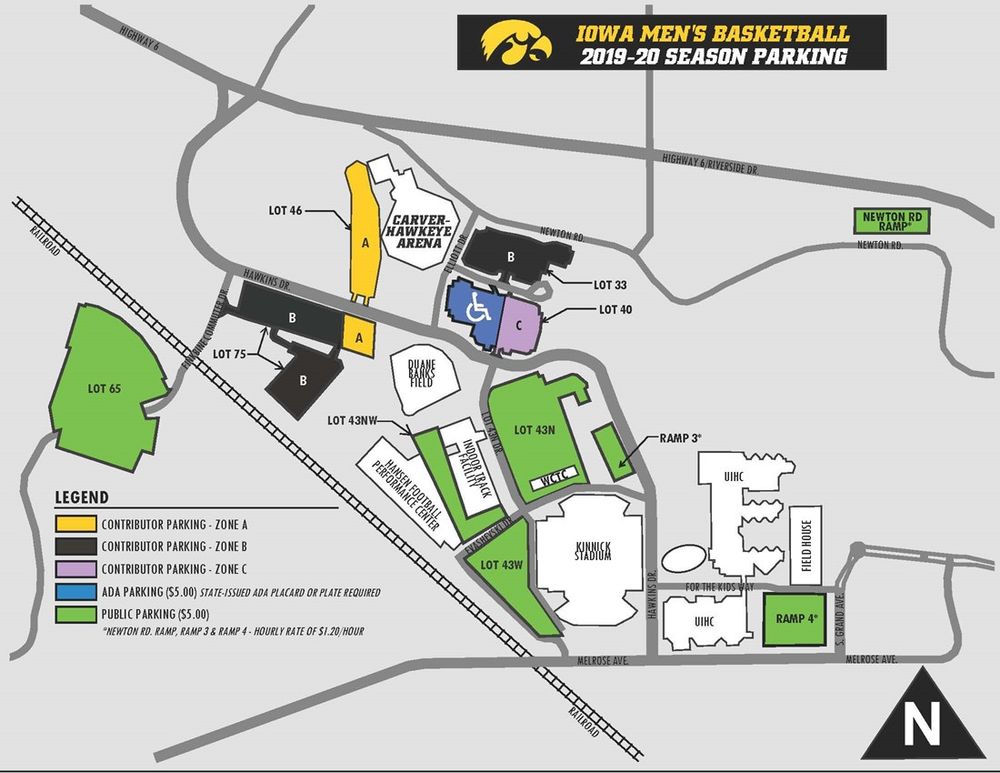 Reserved Contributor Parking
Reserved prepaid parking for I-Club contributors is located in Lots 46, 75, 40 and 33, which are shown on the map above. A prepaid parking pass is required for entry into the four (4) contributor parking lots.
New for 2019-20 season: Contributor parking passes will be identified as zones (listed below). Zone parking passes are no longer valid for any general public parking lot.
– Zone A (indicated in gold on map): Park in Lot 46 or Lot 75 (east section)
– Zone B (indicated in black on map): Park in Lot 33 or Lot 75 (west or south section)
– Zone C (indicated in purple on map): Park in Lot 40 (east section)
– P (indicated in green on map): Park in Lot 43 (N/W/NW) or Lot 65.
Public Parking
Season-long general public parking passes ("P") may be purchased in advance through the UI Athletics Ticket Office at a cost of $50. Season-long general public parking is available for Lot 43 (N, W and NW) and Lot 65. Day of game public parking will be available in Lot 43 (N, W and NW) and Lot 65. Day of game fee is $5 per vehicle and payable upon entry to lot. Public parking is also available at the applicable hourly rate ($1.20/hour) in Ramps 3 and 4, as well as the Newton Road Ramp.
New for 2019-20 season: Credit cards and cash are accepted on day of game.
Free parking is available in the Hancher Lot on dates where no performances are scheduled. When the Hancher Lot is available, complimentary shuttles to Carver-Hawkeye Arena will begin 90 minutes pregame and run until one (1) hour postgame. Shuttles will NOT be available on the following home games due to sold-out Hancher performances: Monday, November 4 vs. Lindsey Wilson and Saturday, February 8 vs. Nebraska.
ADA Parking
Located in the west end of Lot 40 (shown in blue on parking map), across the street from the south entrance of Carver-Hawkeye Arena. The rate for ADA parking is $5 per vehicle and must be accompanied by a state-issued ADA parking placard or license plate. The entrance to Lot 40 is only off of Elliott Dr./Dental Loop. Hawkins Dr. entrance is only available for egress postgame.
Parking Disclaimer
Parking in all reserved parking areas for Men's Basketball games is provided on a first-come, first-served basis. Possession of a parking pass does not guarantee access to a specific parking lot. The University of Iowa Athletics Department reserves the right to deny access into any and all reserved parking areas at its sole discretion.