ACADEMIC SERVICES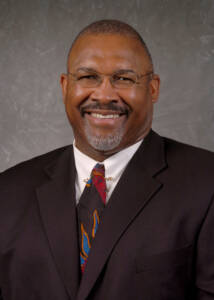 Student Athletes at the University of Iowa have access to one of the finest academic centers in the country. The Gerdin Athletic Learning Center (GALC) provides student-athletes with a place to study and utilize academic resources such as tutors and computing facilities. The 28,000 square foot building also includes office spaces, computer and study labs on all floors as well as a fueling station.
Associate Director for Advising & Eligibility Mel Sanders works directly with men's basketball, ensuring all student-athletes seek regular academic assistance from both their major academic advisor and athletic academic coordinator.
"The Gerdin Academic Learning Center is one of the finest academic facilities in the nation. The facility provides our student-athletes an outstanding learning environment in one central, convenient location to assist them in achieving academic excellence. The University of Iowa's diverse educational fields appeal to students with varied interests. Earning a degree from such a distinguished University is an accomplishment that can open a number of doors."

Iowa Head Coach Fran McCaffery
ACADEMIC ADVISING
Academic Advising is an important part of student-athlete's academic careers. One of the most important relationships a student-athlete will develop in college is with their Athletic Academic Coordinator and academic advisor. Academic coordinators monitor the academic progress, registration and eligibility of men's basketball student-athletes. They communicate directly with the coaching staff concerning student needs and progress. They communicate regularly with students-athletes and meet weekly with all new student-athletes and designated upperclassmen. In addition to Academic Coordinators, student-athletes are assigned a university advisor in the student's designated degree program. Academic Coordinators support campus advisors by reviewing student-athlete class schedules and focusing on progress towards degree requirements with an eye towards graduation. The Academic Coordinator will educate student-athletes on institutional, conference, and NCAA academic guidelines and monitor their degree progress to assure that both graduation and athletic eligibility requirements are met.
TUTORING
Tutoring is available to all student-athletes, free of charge. The Student-Athlete Academic Services staff includes dozens of tutors and learning assistants that can help with course content as well as study strategies. With an array of subject-matter experts, tutors are available in many general education program subjects including natural sciences, mathematics, social sciences, and the humanities. Capitalizing on free tutoring is a strategy that can help students master course material and/or improve grades.
LEARNING ASSISTANTS
Our Learning Specialist and team of Learning Assistants provide an additional layer of academic support services to student-athletes. They are assigned to work one-on-one with student-athletes based on the students' individual needs.
THE HAWKEYE LIFE PROGRAM
The Hawkeye Life Program is an all-encompassing life skills and leadership development model which seeks to enhance the student-athlete experience at The University of Iowa. Hawkeye Life offers student-athletes educational opportunities beyond their athletic and academic responsibilities. The goal is to encourage student-athletes to get involved, to be good citizens, and to take an active role in their personal and professional development. The Hawkeye Life pillars consist of Leadership | Community Engagement | Academic Success | Career Development | Health & Well-Being | Diversity & Inclusion.
DIVERSITY, EQUITY, AND INCLUSION
The University of Iowa and the Department of Intercollegiate Athletics is committed to equal opportunity and diversity in the recruitment, hiring, promotion, and professional development of staff and student-athletes. In this commitment, the Iowa Athletics Department promotes excellence in education by increasing the diversity of staff and our student-athlete population.
CAREER COUNSELING
Our student-athletes have access to the Athletics Career Specialist for one-on-one career counseling. Meeting topics can include: career and major exploration, searching for internships and jobs, interview preparation, graduate and professional application assistance, resume and cover letter critiques, and LinkedIn tutorials.
The Career Specialist also coordinates Hawks to Professionals (H2P), which gives student-athletes meaningful career experiences for eight weeks during the summer. Students shadow professionals in the career field of their choice and participate in a lecture series to aid in their career development outside of shadowing. This program helps students expand their professional network as well as providing relevant experience when applying to internships, research positions, graduate school and full-time jobs.
Academic Success
Members of the Iowa Basketball program have consistently excelled in the classroom over the years, earning both national and conference academic distinction.
Academic All-America
A member of the Iowa Hawkeye basketball team has earned Academic All-America honors eight times over the last 26 years, including three in the last seven years.
Jarrod Uthoff (2016) and Adam Haluska (2007) were voted the National Academic All-American of the Year! Iowa men's basketball student-athletes garnering Academic Al-America honors include Jess Settles (1996); Luke Recker (2001, 2002); Greg Brunner (2006); Adam Haluska (2006, 2007); Mike Gesell (2015, 2016); and Jarrod Uthoff (2016).
Academic All-Big Ten
The Iowa Basketball program has boasted student-athletes on the Academic All-Big Ten team 86 times since 1968, including 35 times over the past 12 years under head coach Fran McCaffery. Additionally, nine student-athletes have earned the honor multiple times the 12 years.
To be eligible for academic award, students must be in their second full year of eligibility and carry a cumulative grade-point average of 3.0 or higher.