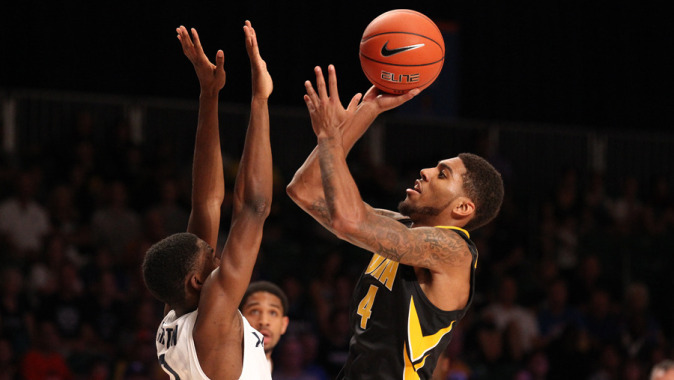 May 12, 2014
Editor's Note: The following first appeared in the University of Iowa's Hawk Talk Daily, an e-newsletter that offers a daily look at the Iowa Hawkeyes, delivered free each morning to thousands of fans of the Hawkeyes worldwide. To receive daily news from the Iowa Hawkeyes, sign up HERE.
By MATTHEW WEITZEL
hawkeyesports.com
IOWA CITY, Iowa — Roy Devyn Marble was upfront with Fran McCaffery in the days and weeks after McCaffery was hired as the University of Iowa head men's basketball coach in 2010. Marble wanted to attend a university that provided him a great education, and a basketball program that would compete at the highest level and develop his game to the point where he would be NBA-ready.
Marble, who finished his Hawkeye career fifth in career scoring (1,694), sixth in assists (397) and seventh in steals (176), credits McCaffery and his staff for helping grow his skillset the last four years.
"I wasn't an NBA-caliber player coming into college," Marble said. "Without the coaching staff's guidance to produce me into one, who knows where I'd be. Even with individual confidence and work ethic you still need to have people around you who put you into positions to be successful; and that's what coach McCaffery did for me."
Since the end of the Hawkeyes' season, Marble has been working on completing his course work toward his degree, along with taking multiple trips to Los Angeles, which is where the first-team All-Big Ten performer is moving.
Two weeks ago, Marble signed with the Wasserman Group and former Hawkeye B.J. Armstrong to serve as his representative.
"I'm looking forward to the next chapter of my life," said Marble. "It was exciting to sign with B.J. and look around the Wasserman headquarters."
In addition to officially becoming a member of the Wasserman Group, Marble got in a few workouts with other top athletes on his initial visit.
"I was working out with Marcus Smart (Oklahoma State), Kyle Anderson (UCLA) and Jahii Carson (Arizona State) to name a few," said Marble. "It was fun to be able to train with other potential draft picks and elite players. When we got to the Santa Monica High School gym, we knew it was time to put in the hard work."
Marble says whether it was working out in Los Angeles or Iowa City, he received some of the best training to prepare him to be at his best at the NBA Draft Combine, which will be held May 14-18 in Chicago.
"The guys out in L.A. and the coaches in Iowa City have helped me improve every day," Marble said. "In Iowa City, I was lifting, shooting, doing ball-handling and full court drills to make sure I'm in top condition. In L.A., we had strength and conditioning and basketball drills in the morning and then came back in the afternoon for another workout."
Marble said he has been in contact with a number of different NBA teams and is enjoying the draft process. The 2014 NBA Draft is scheduled for June 26, but Marble isn't sure where he will be that evening.
"I'm not sure yet where I'll watch the draft," he said. "It probably will be somewhere back in the Detroit area."