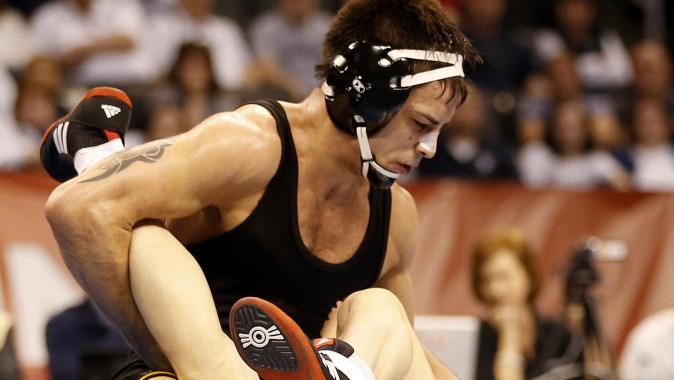 May 31, 2014
MADISON, Wis. — University of Iowa national champion Tony Ramos completed a sweep of the 2014 World Team Trials on Saturday and will represent the United States at 57 kg at the 2014 World Championships.
Ramos defeated Sam Hazewinkel, 4-0, 5-4, in the finals after advancing through the challenge tournament with wins over Dan Mitcheff, Agel Escobedo, and Nico Megaludis.
Ramos, a 2014 Big Ten and NCAA champion, never trailed in the best-of-three championship finals. He twice exposed Hazewinkel in the first round, and used a double-leg takedown in the final seconds of the opening period of Round 2 to pull away from a 1-1 tie.
He will represent the United States at 57 kg at the World Championships in Tashkent, Uzbekistan on Sept. 8-14.
Former Iowa national champion Matt McDonough won four straight on the back side of the 57 kg bracket to place third and earn a spot on the U.S. National Team. He dropped a 5-4 decision in the opening round before running through the consolation bracket and defeating Nico Megaludis, 4-0, in the true third place match.
The 2014 World Team Trials continue Sunday when two-time World Team member Brent Metcalf (65 kg) and national team member Phil Keddy (86 kg) compete for a spot on the 2014 United States World Team.
HWC 2014 WORLD TEAM TRIALS
Tony Ramos (57 kg)
Tony Ramos dec. Dan Mitcheff, 9-5
Tony Ramos dec. Angel Escobedo, 2-0
Tony Ramos dec. Nico Megaludis, 1-0 Best 2-of-3
Tony Ramos dec. Sam Hazewinkel, 4-0
Tony Ramos dec. Sam Hazewinkel, 5-4
Matt McDonough (57 kg)
Brandon Precin dec. Matt McDonough, 5-4
Matt McDonough dec. Kyle Hutter, 14-8
Matt McDonough def. Angel Escobedo, IFF
Matt McDonough dec. Zach Sanders, 11-4
True third place
Matt McDonough dec. Nico Megaludis, 4-0
Micah Burak (97 kg)
Deron Winn dec. Micah Burak, 6-0
Wynn Michelak dec. Micah Burak, 6-0