Match Day Info
NCAA Rules Updates for 2023-24
A takedown will now score three (3) points, instead of the previous two (2) points.
A wrestler may now score a three (3) point near fall, making a near fall worth a possible 2, 3, or 4 points.

Doors Open

The north, south, east and west entrances open 90 minutes prior to the start of the dual.

Mobile Tickets

Mobile tickets will be scanned on fans' smartphones to gain entry into Carver-Hawkeye Arena for the dual. Download the Hawkeye Sports App for the simplest way to order and access tickets. Printed PDF tickets will not be accepted on match day. Read more about how to purchase, download, and access mobile tickets.

Will Call

General Will Call ticket window and Team Pass Gates are located at the Athletics Ticket Office inside the north entrance.
Carver-Hawkeye Arena Information
Parking
Public Parking
Day of meet public parking is available in Lots 33, 43, 65, and 75 South.
Public parking is also available at the applicable hourly rate ($1.20/hour) in Ramps 3 and 4, as well as the Newton Road Ramp. Free parking is available in the Hancher Auditorium Parking Lot on dates where no performances are scheduled. When the Hancher Auditorium Lot is available, complimentary Cambus shuttles to Carver-Hawkeye Arena will begin 90 minutes prior to the start of the meet and run until one (1) hour following the conclusion of the meet.
ADA Parking
Located in the west end of Lot 40 (shown in red on parking map), across the street from the south entrance of Carver-Hawkeye Arena. A state-issued ADA parking placard or license plate is required for entry.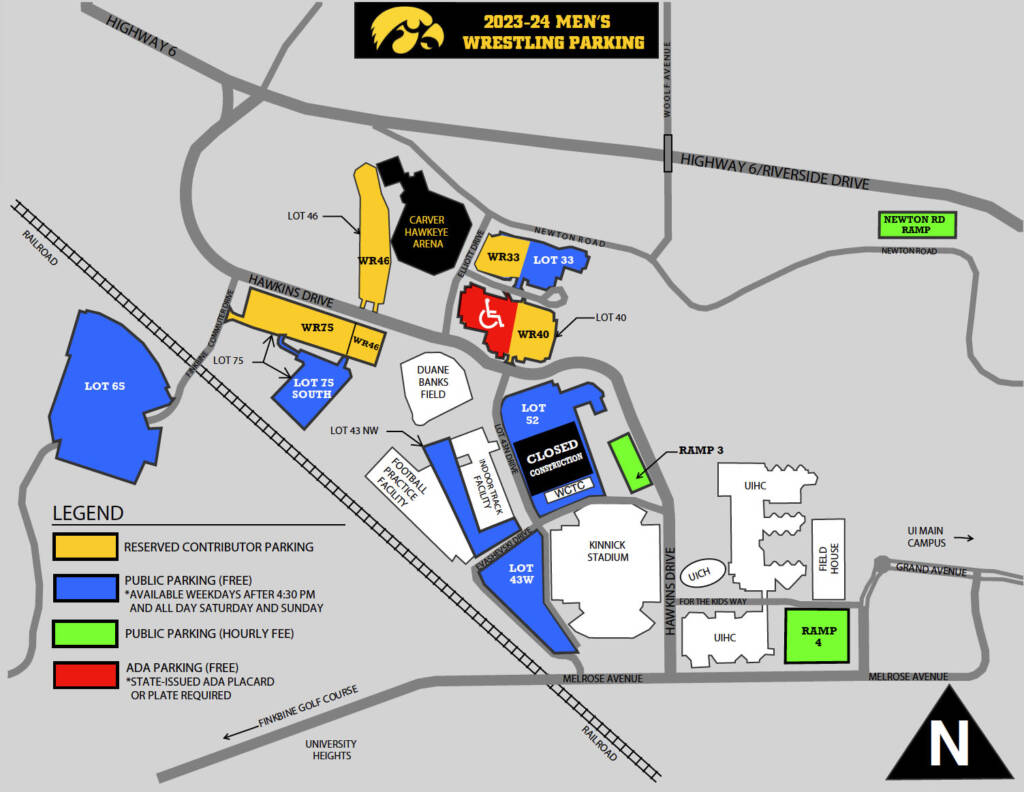 *Please park in designated parking stalls for all events, not including drive lanes, bus shelters and grass/snowbanks.