Carver-Hawkeye Arena Information
Parking
Public Parking
Day of meet public parking is available in Lots 33, 43, 65, and 75 South.
Public parking is also available at the applicable hourly rate ($1.20/hour) in Ramps 3 and 4, as well as the Newton Road Ramp. Free parking is available in the Hancher Auditorium Parking Lot on dates where no performances are scheduled. When the Hancher Auditorium Lot is available, complimentary Cambus shuttles to Carver-Hawkeye Arena will begin 90 minutes prior to the start of the meet and run until one (1) hour following the conclusion of the meet.
ADA Parking
Located in the west end of Lot 40 (shown in red on parking map), across the street from the south entrance of Carver-Hawkeye Arena. A state-issued ADA parking placard or license plate is required for entry.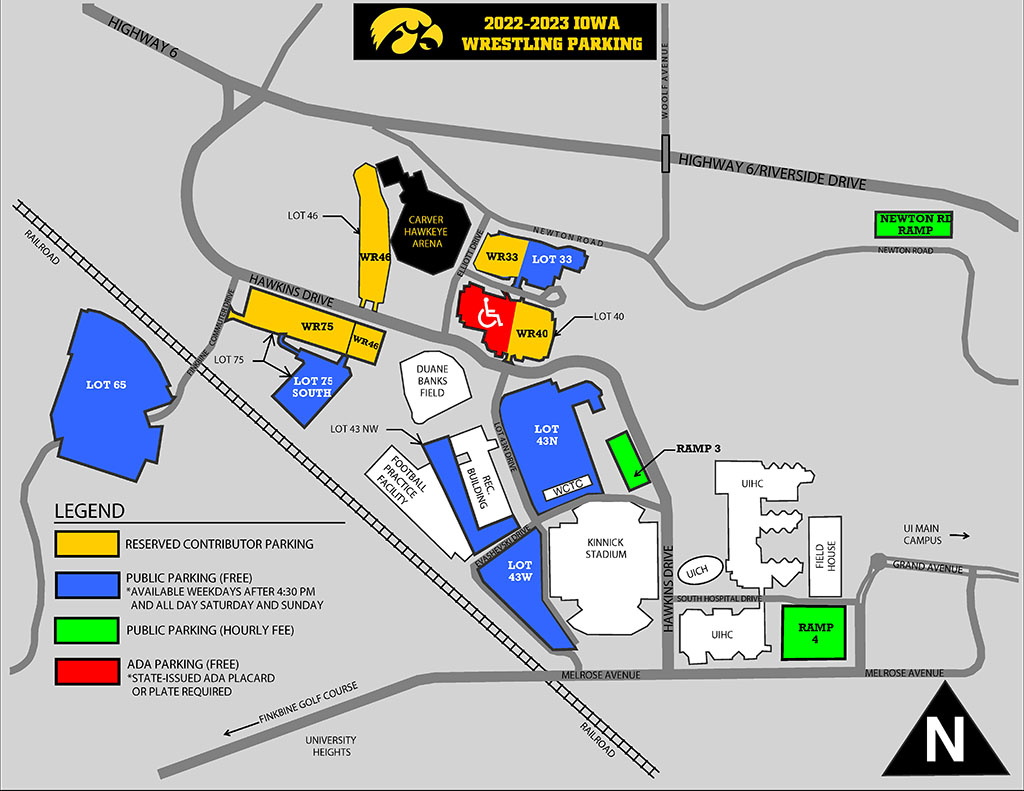 *Please park in designated parking stalls for all events, not including drive lanes, bus shelters and grass/snowbanks.
Match Promotions/Events
| Game | Promotion |
| --- | --- |
| Saturday, November 26 vs. Penn | Kids Day |
| Sunday, December 4 vs. Iowa State | Iowa Corn Cy-Hawk Series |
| Friday, January 6 vs. Illinois | Fan Appreciation Day |
| Friday, January 13 vs. Northwestern | All-American Day |
| Friday, January 20 vs. Nebraska | Military Appreciation Day |
| Friday, February 10 vs. Michigan | Pioneer Showdown |
| Sunday, February 19 vs. Oklahoma State | Senior Day & Alumni Day |