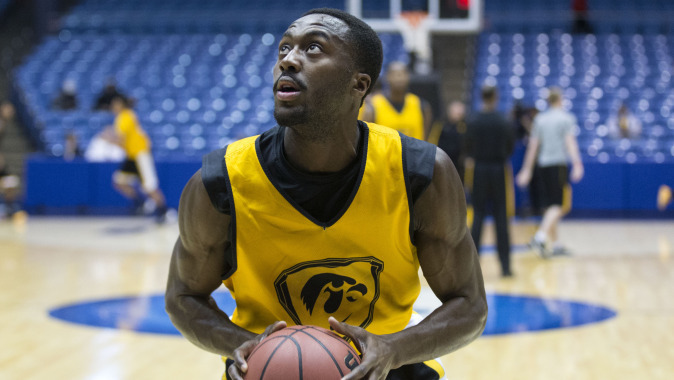 June 13, 2014
Editor's Note: The following first appeared in the University of Iowa's Hawk Talk Daily, an e-newsletter that offers a daily look at the Iowa Hawkeyes, delivered free each morning to thousands of fans of the Hawkeyes worldwide.
By MATTHEW WEITZEL
hawkeyesports.com
IOWA CITY, Iowa — As summer begins to heat up, most University of Iowa students are enjoying time away from campus back home recharging for the fall semester. However, for many UI student-athletes the summer months is a time to work on strength and conditioning and individual skills, as well as taking summer coursework.
Next week, the men's basketball team will begin its annual participation in the Prime Time League, which is held at the North Liberty Community Center. Gabriel Olaseni, who is entering his final season with the Hawkeyes, is eager to get back onto the court with his teammates.
"It will be good to get out there with your teammates on a different stage and play with our new guys," said Olaseni. "It will be beneficial to start playing with them and start building chemistry."
After a two-year absence, UNI will have a presence in the summer league. Players from both schools will be split amongst six teams that compete Thursday nights beginning June 19. With more Division-I players on the rosters, Olaseni said it will make the games more competitive.
"It's always good to go against different players and with UNI playing this year that will be a good mix –plus an added dimension is that we play against them in the Big Four Classic in December," Olaseni said.
In addition to playing in the Prime Time League, the team will have open gyms throughout the summer, which will give the Hawkeyes extra opportunities to play with newcomers Trey Dickerson, Brady Ellingson and Dominque Uhl. Olaseni looks forward to getting to know the players more on-and-off the court this summer.
"I've communicated with them via social media this spring and met them during their respective visits, but the summer months will be a time to get to know them more," said Olaseni. "We want to get them situated and acquainted with Iowa City and answer any questions they have."
The London native said he feels it is the seniors' responsibility to mentor the newcomers once they arrive on campus.
"My freshman year, Bryce Cartwright really took me under his wing," said Olaseni. "I learned a lot from him; he taught me the ropes. My sophomore season, it was Eric May. He told me a lot about work ethic and then last year it was Zach (McCabe), Melsahn (Basabe) and Devyn (Marble). Aaron, Josh and I need to be leaders and set out that we are going to have to play for each other to reach the ultimate goal of winning the Big Ten and making a deep run in the NCAA Tournament."
Entering his senior campaign, Olaseni is trying to maintain the same mindset and approach in offseason training as he has in the past.
"You want to continue to work hard and give it your all every day," he said. "I'm trying to be more organized with my school work so I can get that done and work out more. I have to keep working hard so when my name gets called upon I can make the play and help my teammates win.
"I'm a senior now, so it's time to make the bigger step."