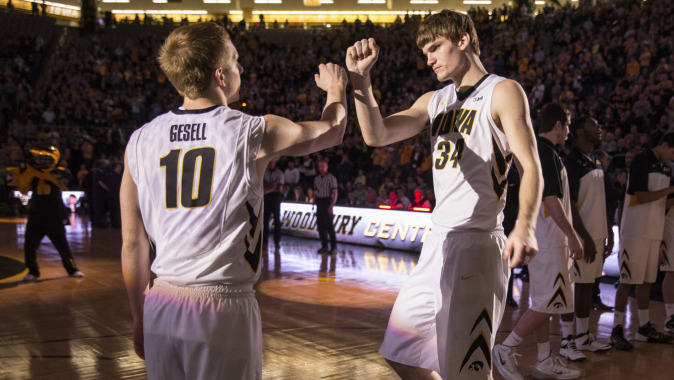 June 18, 2014
IOWA CITY, Iowa — A pair of junior University of Iowa men's basketball players will represent the Hawkeyes on the USA East Coast basketball team later this summer. Guard Mike Gesell and center Adam Woodbury have accepted invitations to compete on the traveling squad and compete in the 2014 Four Nations Cup in Estonia and Finland, Aug. 4-7.
Gesell and Woodbury will depart for a two-day training camp, held on the campus of Columbia University, July 31 and Aug. 1. After two days of training, the team will depart the U.S. and arrive in Estonia the evening of Aug. 2.
USA East Coast will compete against National Teams of Estonia and Slovakia, with a talented French team rounding out the Cup field. Games will take place, Aug. 4-6. The morning of Aug. 7, the team will ferry across the Gulf of Finland into Helsinki to play a friendly match against the National Team of Finland before returning home on Aug. 8.
Gesell (6-foot-1, 190 pounds) led the squad in assists (128) and assist-to-turnover ratio (3.0), ranked second in steals (43) and was third in scoring (7.8) last season. The native of South Sioux City, Nebraska, shared the team's 2014 Top Playmaker Award with senior Roy Devyn Marble. Gesell's 3.0 assist-to-turnover ratio was 12th-best in the country. Gesell, who started all 33 games a year ago, reached double figures 14 times, including seven of the last 11 contests.
Woodbury (7-foot-1, 245 pounds) has started all 71 games of his Iowa career at center. Last season, the Sioux City, Iowa, native established career bests in every statistical category. The team's 2014 Defensive Player of the Year honoree averaged 5.7 points and 3.9 rebounds as a sophomore.
The USA East Coast roster includes two players from the University of Iowa, University of South Carolina and Syracuse University, and one each from the University of Arkansas, University of Maryland, Lycoming College, and Baruch College.
This year marks the fourth consecutive season that a Hawkeye has traveled to Estonia with the USA East Coast basketball team. In 2011, Matt Gatens and Bryce Cartwright traveled overseas; Zach McCabe went in 2012; while Jarrod Uthoff was on the roster a year ago.
To follow the progress of Gesell, Woodbury and the team, follow @East_Coast_BBC on Twitter.