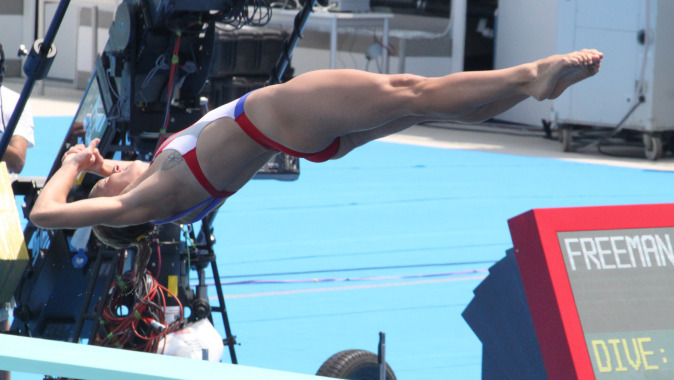 July 16, 2014
IOWA CITY, Iowa — Three members of the University of Iowa men's and women's diving team — junior Addison Boschult and sophomores Brandis Heffner and Lydia Lehnert — are set to compete in the 2014 USA Diving Zone A National Preliminaries from July 18-20 at the Kennedy Shriver Aquatic Center in Bethesda, Maryland.
Boschult and Lehnert will compete on the platform, while Heffner will dive on the 1 and 3-meter springboard. The top-five finishers on the 1-meter, 3-meter and platform will earn a bid to the 2014 AT&T National Diving Championships in Knoxville, Tennessee, from Aug. 12-17.
Boschult enters his junior season after recording NCAA Zone Diving Standards on the 1-meter, 3-meter and platform events in 2013-14. He paced the team on the 3-meter (343.20) and platform (373.85), while finishing fifth at the NCAA Zone D Diving Championships with a school-record score of 381.50 points on the platform. Boschult capped the 2013-14 season by garnering the "Lobby" Lobdell Award as the men's diving MVP.
Lehnert enters her sophomore season after posting an NCAA Zone Diving Standard on the 1-meter springboard (288.60), ranking 10th in program history. She recorded a collegiate-best on the platform (253.55) to rank third in school history and posted collegiate-best on the 3-meter springboard (289.73) at Iowa State. Lehnert capped her freshmen season placing 12th on the platform at the NCAA Zone D Diving Championships.
Heffner enters his sophomore season after placing 19th at NCAA Zone Diving after diving to a personal-best 314.30 on the 1-meter. He recorded a collegiate best in the 3-meter (308.50) at Big Ten Championships and platform (197.05) at the Hawkeye Invitational.
Former Hawkeye Deidre will also compete at the zone preliminary in preparation for the 2014 AT&T National Diving Championships, where she has prequalified. She recently earned a bronze medal in the women's synchronized 3-meter event at the FINA Grand Prix Canada Cup this May, diving alongside Maren Taylor. Freeman will compete in the 1 and 3-meter dives, as well as 3-meter synchronized events with Taylor and Kaylea Arnett.
The Hawkeyes will open the 2014-15 season Aug. 6 at the Phillips 66 National Championships in Irvine, California.