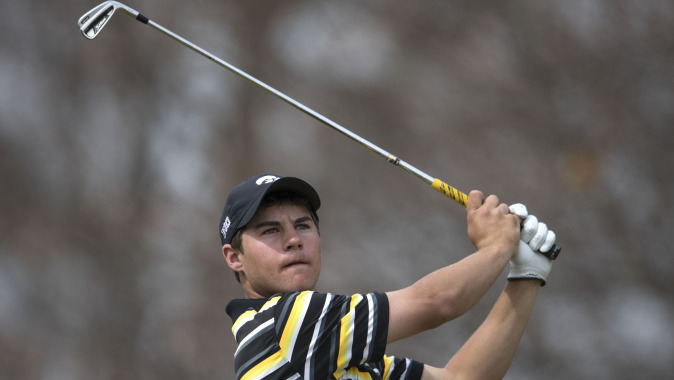 July 21, 2014
IOWA CITY, Iowa — University of Iowa sophomore Carson Schaake captured the 81st Waterloo Open Amateur Division on Sunday, finishing with a six-under-par three-round total of 210 (68, 71, 71). Schaake overcame a two-stroke deficit in the final round at Irv Warren Golf Course.
Schaake opened with a first round 68 at South Hills Golf Course on Friday, finishing four-under over his last 10 holes. He then posted a 71 at Gates Park Golf Course during the second round on Saturday before carding a final round 71 on Sunday.
Earlier this month, Schaake and incoming UI freshman Sam Meuret advanced to the 2014 U.S. Amateur Championship following their performances at sectional qualifying at the Happy Hollow Club in Omaha, Nebraska. Schaake and Meuret tied for medalist honors, as both carded two-round scores of 138 (-4). Schaake posted a pair of two-under 69's, while Meuret fired a first-round 67 (-4) before shooting a 71 (E) in his final round. The pair bested the third place finisher, Michael Colgate of Sarasota, Florida, by six strokes. The 2014 U.S. Amateur Championship will take place August 11-17 at the Atlanta Athletic Club in Jones Creek, Georgia.
The Omaha native posted a scoring average of 74.75 in his freshman campaign. His best finish of the year came at the Hawkeye-Great River Entertainment Invitational, where he tied for fourth with a 215 (-1). He carded his best round of the season at the NCAA Columbia Regional with a 70 (-2) in the final round.
Former Hawkeye Steven Ihm finished tied for 12th in the pro division of the Waterloo Open with a three-round total of 204 (68, 65, 71).
Schaake and Ihm led Iowa to its sixth-straight NCAA Regional appearance this past season. Iowa is 1-of-3 Big Ten teams to appear in six-straight NCAA Regionals (Illinois and Northwestern).