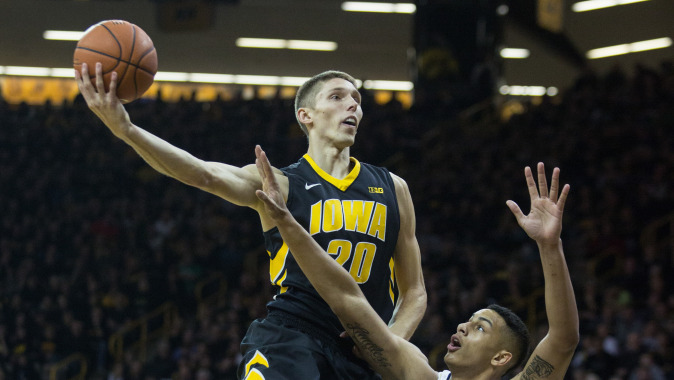 July 21, 2014
IOWA CITY, Iowa — University of Iowa junior Jarrod Uthoff has been named to the National Association of Basketball Coaches Honors Court for the 2013-14 season. The distinction recognizes collegiate basketball student-athletes who excelled in academics during the past season.
In order to be named to the Honors Court, a student-athlete must be an upperclassman, academically, and maintain a cumulative grade point average of 3.2 or higher.
After redshirting the last two seasons, Uthoff (6-foot-8, 208 pounds) was a match-up nightmare for opponents off the bench in 2013-14. The Cedar Rapids, Iowa, native ranked second on the team in blocked shots (35), and fourth in scoring (7.6) and rebounding (4.6). He shot 50 percent from the field and 82 percent from the foul line in his first season as a collegiate player. Uthoff scored in double figures 11 times and posted two double-doubles.
Uthoff, an economics major, was also named Academic All-Big Ten this past spring.