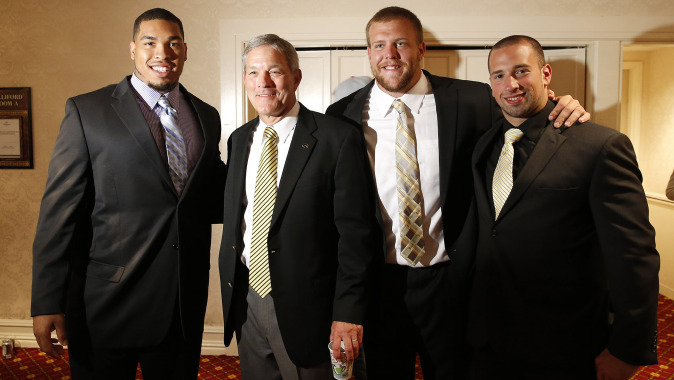 July 28, 2014
B1G Media Day Photo Gallery

| Ferentz B1G Media Day Transcript

By JAMES ALLAN
hawkeyesports.com
CHICAGO — University of Iowa head football coach Kirk Ferentz recognized the past before talking the present at the 2014 Big Ten Media Day on Monday afternoon.
"This is a special year for Iowa football," said Ferentz, the final of 14 Big Ten Conference coaches to take the podium in the Grand Ballroom at the Hilton Chicago. "It's the 10-year anniversary of our 2004 championship team, so that's a great thing.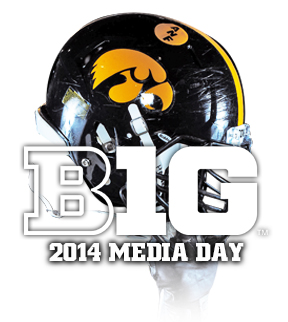 "We have an opportunity to have a good football team. We have some outstanding players returning from last year in the three seniors that are here. Mark Weisman, Carl Davis, and Brandon Scherff are all representative of the kind of players and leaders that it's going to require for us to have a good season. We've got a lot of work ahead, that will begin in earnest next week."
After an opening statement, Ferentz answered five questions from national, regional, and local media before holding a 12-minute side-session with Iowa's media.
Ferentz talked glowingly of Scherff, a returning All-American on the offensive line, who was one of 10 named to the Big Ten's Player to Watch List on Monday. He is the first Hawkeye to be recognized on the list since it was instituted in 2011.
"He's a lot like some of the other great players we've had," said Ferentz. "The first guy that comes to mind is Marshal Yanda, who's a three-time Pro Bowl guy and three-time All-Pro. The first thing I think about with Marshal is his enthusiasm, eagerness to improve, and hard work, and that would sum up Brandon as well."
A year ago at this event, Ferentz couldn't name his starting quarterback. Now, junior Jake Rudock returns for his second season as the Hawkeye starter after throwing for 2,383 yards with 18 touchdowns in 2013.
"Jake did a lot of great things in his first year as quarterback," said Ferentz. "He's a smart, hardworking guy, who is critical of his own performance. People tend to get better if they've got the right attitude, and a good skill set. We saw that with Jake in the spring. He's more confident. You can't hand confidence to a player, they've got to go out on the field and earn it."
The Hawkeyes appear good on the injury front heading into fall camp, aside from senior wide receiver Damond Powell, who had hernia surgery two weeks ago. The recovery is expected to limit the speedster in camp and during the early portion of the season.
"I don't know how fast he'll be able to throttle up," said Ferentz. "Worst case scenario (to get him back) would be Big Ten play, but we're hoping before that."
Ferentz is a fan of the new conference divisions that brings back annual games against schools from border states. That includes a Nov. 15 matchup at Illinois — a team the Hawkeyes haven't faced since 2008.
"All of us, fans and people competing, enjoy the opportunity to play the people near us," said Ferentz. "It was strange the last couple of years to have geographic challenges that way. I am glad we're playing the teams around us, and it's a good thing for fan interest and everyone involved."
Ferentz is excited for when the time comes to move into the new facility — the Richard O. Jacobson Football Operations Building. The transition won't take place until the first bye week, which comes after Iowa's Sept. 27 road tilt at Purdue.
"In a perfect world, we would have been in it in June or 10 years ago, but the world is not perfect, as we know," said Ferentz. "The people that have worked on it have been extremely dedicated, worked hard and have been fantastic.
"I don't want to be half-in, half-out. We're going to wait until the bye week, so we can do it as a unit. The football operation part has to be together, otherwise we're asking for trouble."
The Hawkeyes begin the season Aug. 30, hosting Northern Iowa inside Kinnick Stadium beginning at 11 a.m. (CT). Tickets are available by contacting (800) IA-HAWKS or online at www.hawkeyesports.com.
NOTABLE: Ferentz announced the departure of three players from the 2014 roster in redshirt freshman quarterback Nic Shimonek, sophomore linebacker Laron Taylor, and senior walk-on kicker Alden Haffar. All three players left in good standing, Ferentz said.