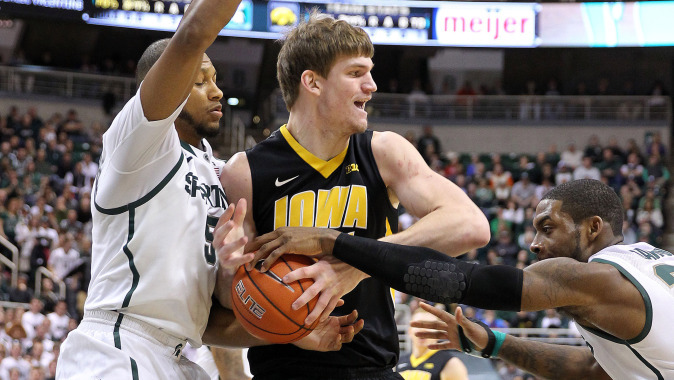 Aug. 6, 2014
TALLINN, Estonia — USA East Coast lost its first game of the Four Nations Cup Wednesday night, falling to the Estonia National Team, 77-65. Both Estonia and USA East Coast finished with 2-1 records after round-robin play, but Estonia captured first place due to the point-differential tiebreaker.
University of Iowa junior guard Mike Gesell scored 14 points to go along with two steals and a pair of assists. Classmate Adam Woodbury controlled 14 rebounds to go along with five points and a steal. Both Hawkeyes played approximately 27 minutes.
USA East Coast will depart via ferry across the Gulf of Finland tomorrow and play against the Helsinki Seagulls of the Finish Pro League. Tipoff for the final contest of the 2014 USA East Coast tour is set for 10:30 a.m. (CT).
On Tuesday, Gesell took over down the stretch in USA East Coast's 90-83 victory over the Austrian National Team.
With the shot clock running down, Gesell drove the lane for an acrobatic layup giving USA an 81-76 advantage with 1:03 left to play. South Carolina's Sindarius Thomwell grabbed a huge rebound on the next possession, passed the ball to Gesell, who streaked down the floor, throwing a lob pass to Syracuse's B.J. Johnson for an emphatic dunk to seal the victory.
Gesell finished the contest with 10 points, five steals, four rebounds and three assists. Woodbury had nine points, two blocks and a rebound.
The Hawkeye duo helped USA post a 103-59 win over Estonia's Tallinna Kalev on Monday.