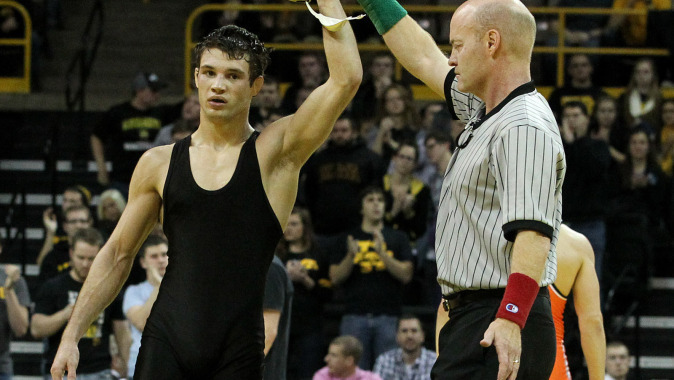 Aug. 10, 2014
IOWA CITY, Iowa — University of Iowa wrestler Thomas Gilman won a bronze medal Sunday at the Junior World Championships in Zagreb, Croatia.
Gilman, a sophomore from Council Bluffs, Iowa, defeated Vladimir Kurdin of Kazakhstan, 11-6, in the 55 kg/121 lb. bronze medal match. He finished the Championships with a 4-1 record.
Gilman outscored his first two opponents 20-0 before winning on criteria, 4-4, in the quarterfinals. He was denied a shot at gold in the semis, where he suffered a 5-2 loss to Michalan Hasanzada of Azerbaijan.
Gilman is the second wrestler with Hawkeye ties to medal at a World Championship event this year. Hawkeye Wrestling Club member Matt McDonough won bronze at the University World Championships on July 8.
Two more HWC members and former Iowa national champions compete at the Senior World Championships in Tashkent, Uzbekistan on Sept. 8-14. Tony Ramos will make his Team USA debut at 57 kg., and Brent Metcalf enters his third World Championships representing Team USA at 65 kg.
A complete recap of Team USA is available at themat.com.
FILA JUNIOR WORLD CHAMPIONSHIPS
At Zagreb, Croatia
U.S. Men's Freestyle performances so far on Sunday
55 kg/121 lbs. – Thomas Gilman, Council Bluffs, Iowa (Hawkeye WC)
WIN Abdelhak Kherbache (Algeria), tech fall, 10-0, 2:29
WIN Methodli Chadli (Tunisia), tech. fall, 10-0
WIN Reza Atri (Iran), 4-4
LOSS Michalan Hasan-Zada (Azerbaijan), 2-5
Bronze Medal bout: Gilman dec. Vladimir Kurdin (Kazakhstan), 11-6