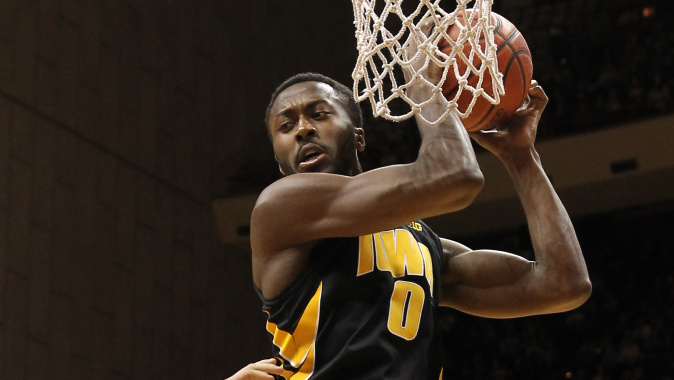 Aug. 21, 2014
2014-15 Iowa Men's Basketball Schedule

2014-15 Big Ten Composite Schedule

2015 Big Ten Tournament Bracket

IOWA CITY, Iowa — The University of Iowa, in conjunction with the Big Ten Conference, announced its 2014-15 men's basketball schedule today.
The Hawkeyes open their season on Sunday, Nov. 2, in a home exhibition contest against Northwood, with the regular season tipping off in Iowa City on Friday, Nov. 14, against an opponent to be announced later in a 2K Classic Regional Round game. The Hawkeyes will play a second 2K Classic Regional Round contest three days later on Nov. 17 on Mediacom Court at Carver-Hawkeye Arena.
Iowa will open its Big Ten schedule on the road for the first time since the 2008-09 season at Ohio State on Dec. 30. The Hawkeyes also opened their season in Columbus in 2008.
Iowa's schedule includes four Big Ten weekend home dates, including three on Saturdays.
Nine of Iowa's 13 nonconference games will be played on Mediacom Court at Carver-Hawkeye Arena, three on neutral courts (Texas, Syracuse/California and Northern Iowa) and one true road game (North Carolina).
Iowa returns 10 letterwinners from last year's squad that won 20 games, posted an upper-division finish in the Big Ten and earned an at-large berth to the NCAA Tournament.
Game times and television information for each game will be announced at a later date.
The UI Ticket Office is accepting season ticket requests for the 2014-15 season. Fans can call 1-800-IA-HAWKS, hawkeyesports.com or stop by the ticket office at Carver-Hawkeye Arena to reserve their seats today.
? Iowa will play five Big Ten teams twice and eight teams once. The Hawkeyes will compete against Minnesota, Nebraska, Northwestern, Ohio State and Wisconsin twice. Iowa will host Illinois, Maryland, Michigan State and Rutgers, and travel to Indiana, Michigan, Penn State and Purdue.
? Iowa's first six conference games come against teams that advanced to the 2014 NIT or NCAA Tournament ; five of which made the NCAA's.
? Iowa's two conference "byes" are the weekend of Jan. 3/4 and midweek Jan. 27/28. Furthermore, the Hawkeyes will only play on Wednesday once during the Big Ten schedule.
? Between Nov. 24 and Dec. 12, Iowa will play six home games and one true road contest.
? Iowa will play Wisconsin twice in in a span of 11 days (Jan. 20 and Jan. 31).
? This will be the fifth straight season Iowa will play its final conference game of the season at home (March 7 vs. Northwestern).