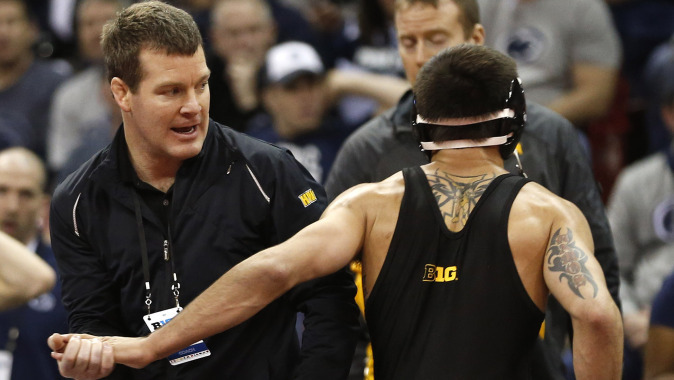 Aug. 28, 2014
IOWA CITY, Iowa — USA Wrestling announced Thursday that University of Iowa head coach Tom Brands has been named a U.S. Freestyle volunteer coach for the 2014 World Wrestling Championships in Tashkent, Uzbekistan. The men's wrestling competition is September 8-9.
Penn State's Cael Sanderson was appointed to the same position. They will work with National Freestyle Coach Bruce Burnett, Assistant National Freestyle Coaches Bill Zadick and Brandon Slay, and a staff including personal coaches in the preparation of the team and coaching of the athletes at the World Championships.
"I think everybody is after the same thing," said Brands. "The commitment is they want to win in 2014. We have guys who are hungry. There are guys who are first-time team members and want to be World champions. We have Burroughs, but Burroughs needs help. We won't win the Worlds as a team with just him. Performance is key from each of the team members. Our young attitude is good. They know the important year is the one upon us. They are not looking down the road. It is now, not 2016. I like that."
Brands was a 2004 U.S. Olympic Team coach, helping lead the USA to a three-medal performance in Athens, Greece. He was assistant coach of the 2003 U.S. Freestyle World Team, which placed second in the World Championships in New York City, led by two silver medalists. He is also a coach with the Hawkeye Wrestling Club, and is personal coach for two 2014 U.S. World Team members, Tony Ramos and Brent Metcalf.
"In my role, you stay out of the way, while providing more support for Ramos and Metcalf," said Brands. "My job is to get our guys ready from our stable, both Metcalf and Ramos, and to assist the national coaching staff with whatever else they need. We have to make sure they all are getting what they need and feel good about it. They all come from very good programs."
Metcalf (65 kg) is making his third World Championships appearance. Ramos (57 kg) is making his first. The U.S. Freestyle team also includes Jimmy Kennedy (61 kg), Nick Marable (70 kg), Jordan Burroughs (74 kg), Ed Ruth (86 kg), Jake Varner (97 kg), and Tervel Dlagnev (125 kg).
Click HERE to read the complete release from USA Wrestling.