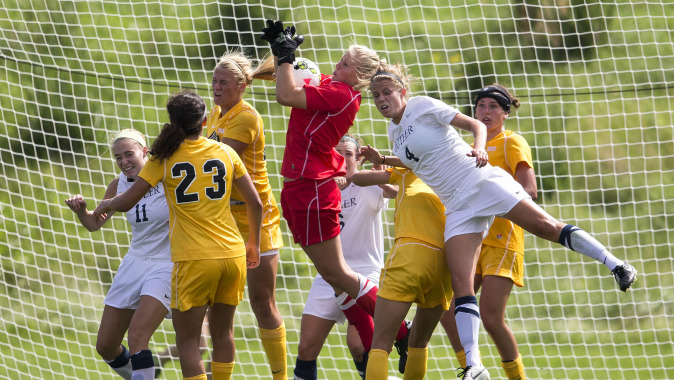 Sept. 9, 2014
THE MATCH-UP
The University of Iowa soccer team opens Big Ten Conference play Thursday, hosting Illinois at 7 p.m.(CT) and Northwestern on Sunday at 1 p.m. Both contests will be held at the Iowa Soccer Complex.
ON THE WEB
Iowa soccer fans can follow both contests via live stats (GameTracker) on hawkeyesports.com. Click on the "GT" link found on both the front page and the soccer schedule page to access the live stats feed. Fans can also follow @HawkeyeSoccer for live in-game updates.
LIVE STREAMING
Both of Iowa's contests will be live streamed on BTN2Go.com with the purchase of a BTN Plus Subscription. A subscription to BTN Plus on BTN2Go does NOT require a Big Ten Network TV subscription with a TV provider.
PROMOTIONS
Thursday's conference opener is "Military Appreciation Night." The first 100 fans in attendance will receive free mini American flags. Sunday's matchup with Northwestern is "Girl Scout Day" as well as "Alumni Day." Iowa Hawkeye drawstring bags will be given to the first 100 fans. The soccer team will also be holding an autograph session at the conclusion of the match.
QUICK HITTERS
? After scoring four goals all of last season, sophomore Bri Toelle is tied for second on the team in goals scored (3) and has scored a goal in back-to-back contests.
? Iowa is second in the Big Ten Conference with 16 total goals scored.
? Senior Cloe Lacasse and sophomores Natalie Krygier and Corey Burns each have three assists for the Hawkeyes this season. Sophomore Bri Toelle and freshman Aubree Larson have two a piece.
? Iowa is out-shooting its opponents, 106-52, in six games this season, which includes a 56-18 advantage in shots on goal.
? Lacasse is first in the Big Ten in goals (7) and points (17). Lacasse has scored in four of six contests this season and has scored two goals in a game three diff erent times.
SCOUTING ILLINOIS
Thirteen-year head coach Janet Rayfi eld brings an Illinois squad that has won five straight matches while outscoring its opponents, 13-5. Their only blemish came against No. 16 Notre Dame in the opening game of the season, 3-1. Illini senior Janelle Flaws has four goals through six games this season while tallying two assists along the way. Illinois returns seven starters from a team that finished fifth place in the Big Ten last season.
ILLINOIS VS. IOWA — THE SERIES
Illinois owns the all-time series against Iowa, 13-5-1. The Hawkeyes have not defeated the Illini since the 2008 season when Illinois was ranked No.16. Iowa won, 1-0.
SCOUTING NORTHWESTERN
Northwestern enters Sunday's matchup with an overall record of 4-1-1 picking up victories over No. 15 Marquette, UIC, Miami (Ohio), and Saint Louis. Third-year head coach Michael Moynihan's Wildcats have only allowed two goals through six games this season with both of them coming in the second half. Sophomore Addie Steiner leads the Wildcats with six goals, which is good for third in the Big Ten.
NORTHWESTERN VS. IOWA — THE SERIES
Iowa is 5-11-1 all-time against Northwestern. The Hawkeyes have taken two of the last three from the Wildcats, including a 1-0 shutout victory last season in Evanston.
LAST GAME
Goals were easy to come by for the Hawkeyes as they rolled past Colorado State in a 4-0 victory on Sept. 7 in Fort Collins, Colorado. Seniors Cloe Lacasse (2) and Melanie Pickert and sophomore Bri Toelle each scored goals in the contest.
Cloe Lacasse…
? has scored in four-of-six contests for the Hawkeyes, including three two-goal games — for 10 total in her UI career.
? moved into second place in school history in goals and points in Iowa's 3-0 win over Fresno State. Lacasse currently has 38 goals and 99 points for her career.
? has seven goals and three assists for 17 points in 2014. As a junior, she had six goals and seven assists in 23 games.
? leads the Big Ten in goals (7) and points (17) and is second in shots (23).
? is tied with Wisconsin's Cara Walls for second nationally in goals scored and is fourth in the nation in shots attempted.
HAWKEYES DISTRIBUTING
Iowa has tallied 13 assists through six games this year, putting them in a four-way tie for third place in the Big Ten. Cloe Lacasse, Natalie Krygier, and Corey Burns are all tied for the team high with three assists each. Bri Toelle and Aubree Larson both have two a piece.
SHUTOUTS GALORE
Junior Hannah Clark started for the first time this season, helping the Hawkeyes to a 4-0 victory over Colorado State on Sept. 7. The shutout was the 12th in Clark's career and first of the 2014 season. Clark (1) and senior Kiley Beck (3) have combined for four total shutouts in the early portion of the 2014 season.
BECK SHINES IN GOAL
After playing five games total in her first three seasons, senior Kiley Beck has posted three shutouts in five games at goal this season. Beck ranks fourth in the Big Ten with a 0.43 goals against average and .846 saves percentage in 420:24 minutes, where she has made 11 saves on 13 chances. ? Beck posted her fi rst career shutout and victory in her fi rst career start in the season-opening double overtime victory at Northern Iowa on Aug. 23. She followed with her second and third shutout, leading Iowa to wins over Illinois Chicago and Fresno State.
NEWCOMERS SHINE
– Freshman Katharine Woodruff got the Hawkeyes on the scoreboard in 2014 when she netted the game-winning goal in the 1-0 double-overtime win at Northern Iowa on Sept. 22. – Freshman Aubree Larson tallied a pair of assists in Iowa's 4-0 win at Illinois-Chicago on Aug. 24, and she has scored goals in consecutive games, putting her in a tie for second on the team. Larson will miss the remainder of the season after suffering a knee injury at Iowa State. – Natalie Krygier, a transfer from Connecticut, leads the team with three assists. The sophomore registered a pair of assists in Iowa's 3-0 victory over Fresno State on Aug. 29.
BROWN: A CONSTANT
Senior Caitlin Brown is the only Iowa player to log every minute of game action this season. The defender has played every minute for the past 40 games dating back to the 2012 season — a streak of 3,809 minutes.
NONCONFERENCE DOMINANCE
Dating back to the 2010 season, the Hawkeyes have compiled a 30-2 nonconference record. Over the course of the five-year stretch, the Hawkeyes have only fallen to No. 23 Notre Dame in last year's NCAA Tournament and Iowa State last Friday, Sept. 5.
SENIOR EXPERIENCE
Senior Melanie Pickert has started all 70 games of her Iowa career, while fellow seniors Caitlin Brown and Cloe Lacasse have started 69-of-70 games as Hawkeyes.
TEAM CAPTAINS
Seniors Kiley Beck, Caitlin Brown, and Melanie Pickert have been voted team captains for the 2014 Iowa soccer team.
LACASSE HISTORICALLY SPEAKING
In three-plus years, junior Cloe Lacasse has made her mark on the Iowa soccer program.
The Sudbury, Ontario, native is currently second in career goals (38), points (99), shots (255), game-winning goals (12), and assists (23).
Lacasse led Iowa in goals scored, points, and shots taken in both the 2011 and 2012 seasons. She capped off her junior year by garnering second-team All-Big Ten selection and second-team NSCAA All-Great Lakes Region honors.
NEW FACE AT THE HELM
First-year head coach Dave DiIanni takes over the Hawkeyes' program after a successful run at Grand Valley State. DiIanni amassed a 221-18-18 record with the Lakers and guided the team to three NCAA Division II national championships and nine-consecutive Great Lakes Intercollegiate Athletics Conference titles.
Assistant coach Erica Demers joins the Hawkeye staff after spending the last nine years with DiIanni at Grand Valley State.
DIIANNI IN GOOD COMPANY
In 11 seasons at Grand Valley State, head coach Dave DiIanni posted a 221-18-18 overall record for a .895 winning percentage. The mark was the third-best all-time in women's soccer history entering the 2014 season.
RETURN OF THE SCORING LEADERS
Iowa returns three of its top four scorers from last year in seniors Melanie Pickert, Cloe Lacasse and sophomore Bri Toelle.
Pickert led the way with seven goals, Lacasse scored six goals last season, pushing her career total to 31, and Toelle added four goals in her first season as a Hawkeye.
3 HAWKEYES ON B1G PLAYERS TO WATCH LIST
Caitlin Brown, Cloe Lacasse, and Melanie Pickert were named to the Big Ten Players to Watch list.
RETURNING ALL-BIG TEN SELECTIONS
Cloe Lacasse and Melanie Pickert return for their senior seasons after earning second-team All-Big Ten honors a year ago. Sophomore Amanda Lulek was selected to the Big Ten All-Freshmen team last season.
HAWKEYES ON TV
The Hawkeyes' Sept. 25 home contest against Maryland will be broadcast live on BTN. The network will also be televise the Big Ten Tournament from Nov. 5-9 in West Lafayette, Ind.
Iowa will also appear four times — Illinois (Sept. 11), Northwestern (Sept. 13), Indiana (Oct. 17), and Purdue (Oct. 19) — on BTN Plus (which can be accessed via www.btn2go.com).
B1G IN THE POLLS
Penn State and Wisconsin are ranked in the latest NSCAA Top 25 poll of the 2014 season. The Nittany Lions are ranked No. 8 with the Badgers right behind at No. 9.
Illinois, Michigan, Nebraska, and Michigan State are all receiving votes.
NEXT UP
Iowa hits the road next week for a conference matchup with Minnesota on Saturday at Elizabeth Lyle Robbie Stadium at 7 p.m. (CT).