Box Score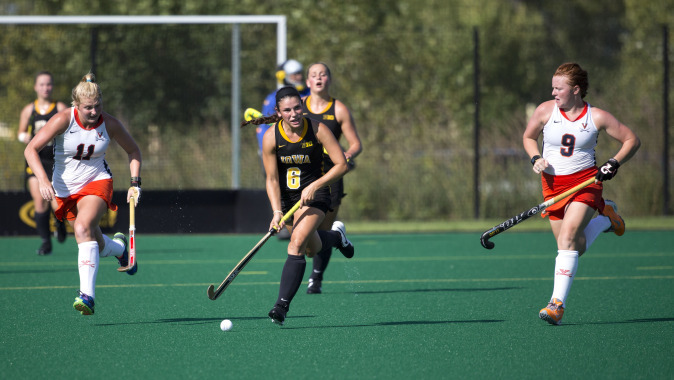 September 11, 2014
STANFORD, Calif. — The seventh-ranked University of Iowa field hockey team (3-1) defeated UC Davis (1-4) in a neutral-site matchup this afternoon, 3-1, in Stanford, California.
Junior Natalie Cafone got the Hawkeyes off to a fast start netting a goal just under the four-minute mark lifting Iowa to a 1-0 advantage. Senior Dani Hemeon registered the assist.
The Hawkeyes outshot the Aggies, 6-1, in the first period, but were unable to hang onto the lead going into intermission. UC Davis' Kayla Wigney evened the score, 1-1, at the 10-minute mark to cap the first-half scoring.
Iowa's offense erupted in the second half netting a pair of goals in the first two minutes from freshman Mallory Lefkowitz (35:33), the first of her collegiate career, and Cafone (36:24), giving the Hawkeyes a 3-1 lead. The offense never decelerated as the visiting team again had the home team's number in shot attempts, 22-5.
Cafone — the 2013 NCAA points leader– now has seven goals this season, and 29 goals in her last 25 games. The reigning Big Ten Offensive Player of the Week has now scored at least one goal in all four games this season, including a hat trick in Iowa's win over sixth-ranked Virginia.
The Hawkeyes return to action tomorrow in Stanford, California, squaring off with No. 8 Stanford at 2 p.m. (CT). The match can be seen on Pac-12 Network.