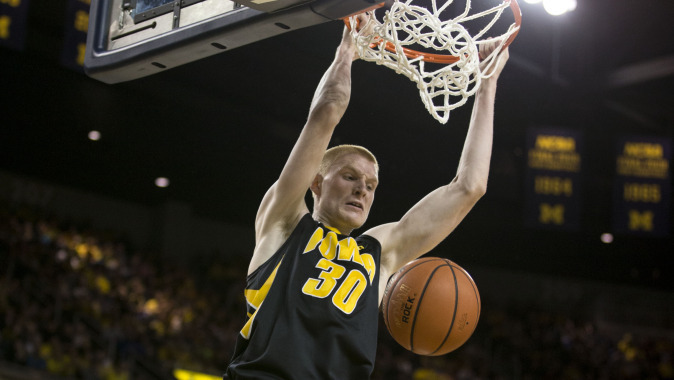 Sept. 16, 2014
IOWA CITY, Iowa — The Big Ten Network (BTN) and University of Iowa announced today its television schedule for the 2014-15 men's basketball season. Ten Iowa games will appear on the network, while the Hawkeyes will also appear three times on BTN's digital network.
Iowa's in-state nonconference contests against Iowa State (Dec. 12, 7 p.m.) and Northern Iowa (Dec. 20, 6:30 p.m.) will appear on BTN.
Conference home games against Nebraska (Jan. 5, 8 p.m.), Maryland (Feb. 8, 2:15 p.m.), Minnesota (Feb. 12, 6 p.m.), Illinois (Feb. 25, 8 p.m.), and Northwestern (March 7, 11 a.m. or 1:15 p.m.) will be televised on BTN. Fans can watch Iowa league road games at Minnesota (Jan. 13, 8 p.m.), Purdue (Jan. 24, 11 a.m.), and Northwestern (Feb. 15, 2 p.m.) on BTN.
Iowa's exhibition against Northwood (Nov. 2, TBD) and regular-season home games against Longwood (Nov. 29, TBD) and Maryland-Baltimore County (Dec. 6, TBD) will be available digitally via BTN Plus on BTN2Go.
Start times and television information for the remainder of Iowa's schedule will be announced later this week.
| | | | |
| --- | --- | --- | --- |
| Date | Opponent | Time (CT) | TV |
| Nov. 2 | Northwood (exhibition) | TBD | BTN Plus |
| Nov. 29 | Longwood | TBD | BTN Plus |
| Dec. 6 | Maryland-Baltimore County | TBD | BTN Plus |
| Dec. 12 | Iowa State | 7:00 p.m. | BTN |
| Dec. 20 | vs. UNI (in Des Moines) | 6:30 p.m. | BTN |
| Jan. 5 | Nebraska | 8:00 p.m. | BTN |
| Jan. 13 | at Minnesota | 8:00 p.m. | BTN |
| Jan. 24 | at Purdue | 11:00 a.m. | BTN |
| Feb. 8 | Maryland | 2:15 p.m. | BTN |
| Feb. 12 | Minnesota | 6:00 p.m. | BTN |
| Feb. 15 | at Northwestern | 2:00 p.m. | BTN |
| Feb. 25 | Illinois | 8:00 p.m. | BTN |
| March 7 | Northwestern | 11:15 a.m./1:15 p.m. | BTN |