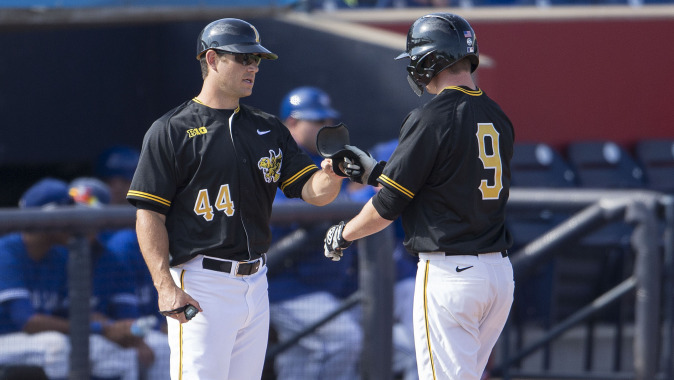 Sept. 18, 2014
Editor's Note: The following first appeared in the University of Iowa's Hawk Talk Daily, an e-newsletter that offers a daily look at the Iowa Hawkeyes, delivered free each morning to thousands of fans of the Hawkeyes worldwide. To receive daily news from the Iowa Hawkeyes, sign up HERE.
By JAMES ALLAN
hawkeyesports.com
IOWA CITY, Iowa — After wrapping up a nine-year professional baseball career, Jeff Clement is embracing a new role as a volunteer assistant with the University of Iowa baseball team.
"It's the same game, but I have a different role," said Clement. "It's going to give me an entire different perspective in looking at things. As a player my entire life I had that one vision. Being a catcher, you have to learn more about the game, so that will make the transition easier."
During his nine professional seasons, Clement played parts of four seasons in Major League Baseball with the Seattle Mariners and Pittsburgh Pirates as a catcher/first baseman. After announcing his retirement in March, 2014, Clement wasn't sure what his next step would entail.
"I knew because of my playing career that coaching could be in the future," he said. "I have learned a lot as a player, and I expect to learn a lot as a coach."
"I didn't think it would take 31 years or at 31 years old I'd become a Hawkeye. But it happened, and I am excited about it."

UI volunteer assistant Jeff Clement
UI assistant coach Marty Sutherland put a feeler out to friend and former teammate, Mike Clement (Jeff's brother), when the Hawkeyes had the volunteer coach opening. That led to Jeff meeting with the Iowa coaches and an opportunity presented itself.
Clement has been involved in baseball at every level. He played in the 1996 Little League World Series as a kid before breaking the national high school home run record, belting 75 career home runs at Marshalltown (Iowa) High School.
At Southern California, Clement was the Collegiate Baseball Freshman National Co-Player of the Year in 2003, and he was the recipient of the Johnny Bench Award as the nation's top catcher and was finalist for the Golden Spikes Award (given to the National Player of the Year) in 2005.
After being selected as the No. 3 pick in the 2005 MLB Draft, Clement had an injury-riddled professional career, but he doesn't look back with any regrets.
"I got to play professional baseball for nine years, and it was a great experience," he said. "I got to meet a lot of interesting people from all over the world, so I am thankful for the opportunities baseball has given me and continues to give me at the University of Iowa."
Clement has a unique perspective on the game, one that he believes will be beneficial to the Iowa student-athletes.
"I've been able to experience a lot of things playing at all different levels; dealing with everything you can face each step of the way, and ultimately having a lot of success and failure along the way," he said. "My experiences equip me to be able to help the players.
"(Playing for as long as I did) you learn a lot about the game, you never stop learning. I am 31-years-old now, and I am sure I am going to learn a lot more this year than I would have expected at age 31."
Clement grew up an Iowa fan amongst a family of Hawkeyes. He's relishing the chance to proudly sport the Tigerhawk across his chest.
"I didn't think it would take 31 years or at 31 years old I'd become a Hawkeye," he said. "But it happened, and I am excited about it."