2023 Iowa Home Baseball Schedule
| Date | Time | Opponent | Promotion |
| --- | --- | --- | --- |
| Tuesday 2/28/2023 | 4:05 PM | Vs. Loras College | Home Opener |
| Tuesday 3/07/2023 | 4:05 PM | Vs. Coe College | |
| Wednesday 3/15/2023 | 4:05 PM | Vs. St. Thomas | |
| Friday 3/17/2023 | 4:05 PM | Vs. South Dakota St. | |
| Saturday 3/18/2023 | 2:05 PM | Vs. South Dakota St.  | |
| Sunday 3/19/2023 | 1:05 PM | Vs. South Dakota St.  | |
| Tuesday 3/21/2023 | 4:00 PM | Vs. Grand View | |
| Friday 3/24/2023 | 4:05 PM | Vs. Western Michigan | |
| Saturday 3/25/2023 | 2:05 PM | Vs. Western Michigan | |
| Sunday 3/26/2023 | 1:05 PM | Vs. Western Michigan | |
| Friday 3/31/2023 | 4:05 PM | Vs. Maryland | |
| Saturday 4/01/2023 | 2:05 PM | Vs. Maryland | |
| Sunday 4/02/2023 | 1:05 PM | Vs. Maryland | |
| Wednesday 4/12/2023 | 4:05 PM | Vs. U of Wisconsin-Mil. | |
| Wednesday 4/19/2023 | 6:05 PM | Vs. Bradley | |
| Friday 4/21/2023 | 6:05 PM | Vs. Nebraska | |
| Saturday 4/22/2023 | 2:05 PM | Vs. Nebraska | |
| Sunday 4/23/2023 | 1:05 PM | Vs. Nebraska | |
| Tuesday 4/25/2023 | 4:00 PM | Vs. Upper Iowa | |
| Tuesday 5/02/2023 | 6:05 PM | Vs. Illinois St. | |
| Friday 5/05/2023 | 6:05 PM | Vs. Ohio St. | |
| Saturday 5/06/2023 | 2:05 PM | Vs. Ohio St. | |
| Sunday 5/07/2023 | 1:05 PM | Vs. Ohio St. | |
| Friday 5/12/2023 | 6:05 PM | Vs. Michigan St.  | |
| Saturday 5/13/2023 | 2:05 PM | Vs. Michigan St.  | |
| Sunday 5/14/2023 | 1:05 PM | Vs. Michigan St.  | |
| Tuesday 5/16/2023 | 6:05 PM | Vs. U of Illinois-Chicago | Home Finale |
2023 Season Tickets Available NOW
Assigned Seats: $75
Located in the stadium seats behind the backstop

Seating preference available 
General Admission Adult: $75 Youth: $40
Located in the bleachers along the 1st & 3rd baselines

Youth ages 6-18 will need a ticket to enter the stadium

Ages 5 & under are free and do not need a ticket
2023 30-Block
$99 for 30 tickets
Good for any combination of home baseball games this season

You will be sent 30 individual ticket vouchers of which you will present at any game or combination of games during the 2023 season

Seating will be in the General Admission areas of the stadium
2023 Single Game Tickets Available Early February 
Single game prices:
Weekday Single Game: $2
Weekend Series (non-conference): $7 Adult, $3 Youth
Weekend Big Ten Series: $10 Adult, $5 Youth 
Everyone regardless of age must have a ticket for admission
University of Iowa Students are FREE for home Iowa Baseball regular season games with a valid University of Iowa Student ID.
Duane Bank Stadium
Home of the Hawkeyes
Since 2015, Iowa owns a 105-33 record at home
Parking
University of Iowa parking in Lots 40 and 75  are for faculty and staff with valid parking assignments ONLY.
Metered parking is available for fans in Lot 46 and 33 at Carver-Hawkeye Arena, Lot 43 NW along the Rec Center, and Ramp 3 near the water tower. More information can be found on the Parking & Transportation site.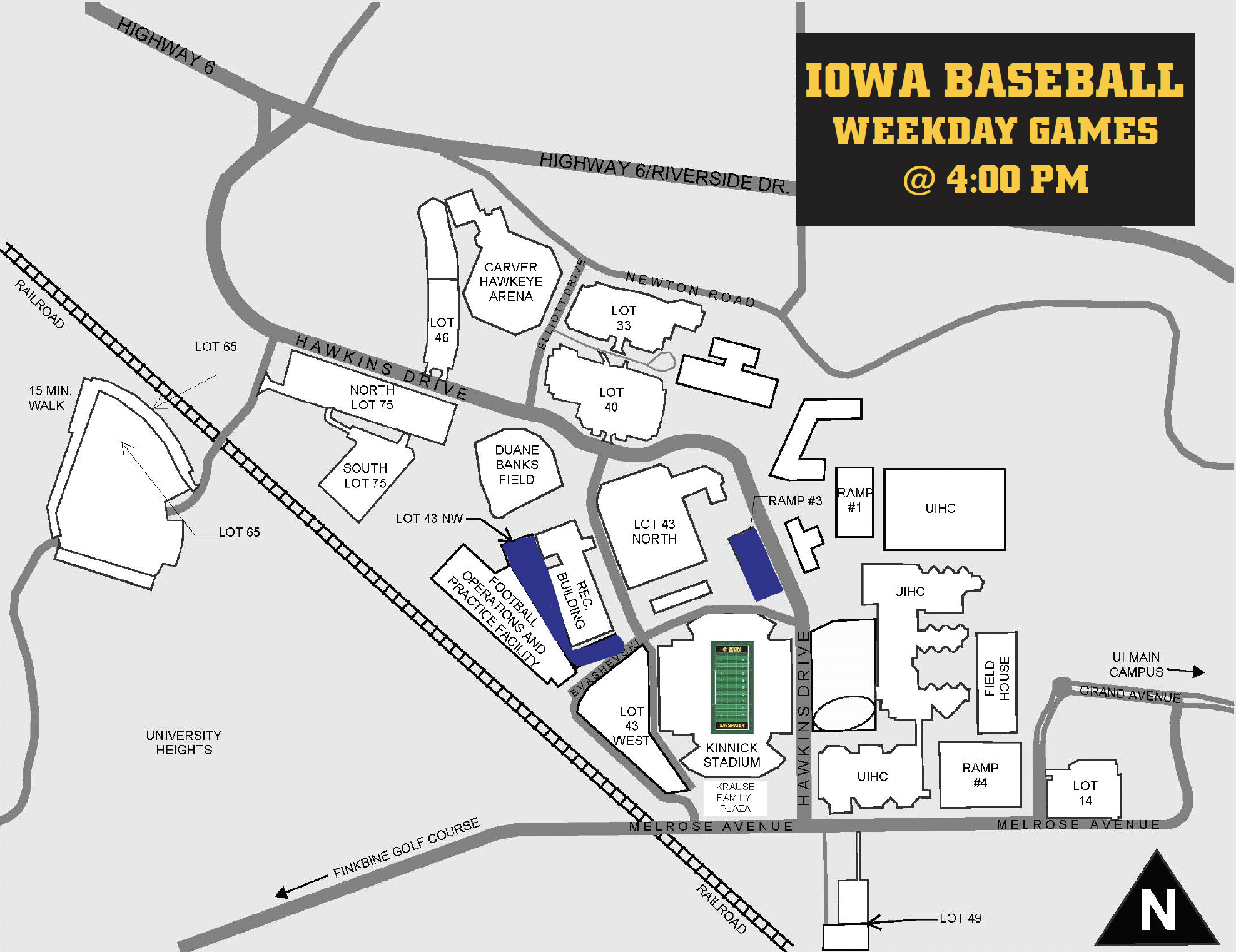 FAQ
Concessions
Duane Banks Stadium has fresh food and drink available. All concession stands will be cashless. Only credit or debit cards will be accepted.