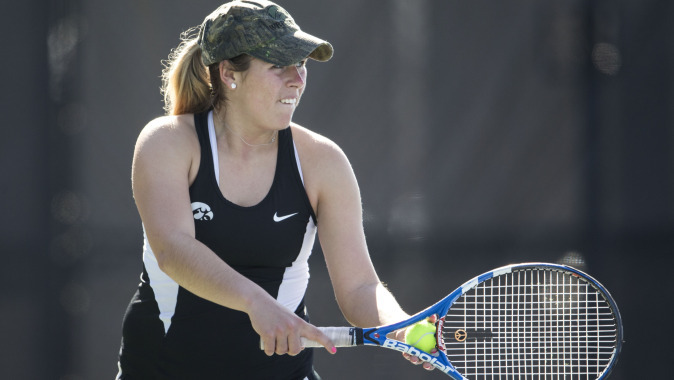 Sept. 19, 2014
Doubles and Singles Results

MINNEAPOLIS — The University of Iowa women's tennis duo Shelby Talcott and Katie Zordani took second in the Minnesota Doubles Flight of the Gopher Invitational on Friday. The Hawkeyes will also be advancing 5 singles to the quarterfinal matches.
Talcott and Zordani began the day defeating South Dakota State's Davies/Rosa, 8-4 and went on the beat Iowa State's Pronina/Galvis, 8-7 (7). In the championship match of the bracket, seniors Talcott and Zordani fell to Chypyha/Avgerinos (Wisconsin), 8-2.
Zordani and Talcott saw success in singles play, both advancing towards the championship match in the Gopher and Minnesota flights, respectively. Zordani overcame Kelsey Grambeau of Wisconsin 5-7, 6-2, 1-0 (9), while Talcott defeated UNI's Jieke Stroobant 6-1, 6-1.
Freshman Montana Crawford made her Hawkeye debut advancing to the quarterfinals of the Gold Flight after taking on Northern Iowa's Cristina Alvares, winning 7-6 (1), 6-3.
Seniors Ellen Silver and Morven McCulloch kicked off the tournament season advancing in singles play, both defeating Eastern Michigan players. McCulloch overtook Klara Supejova 6-1, 6-1, and Silver outdid Daphne Friedrichs, 6-1, 6-1.
Action at the Gopher Invitational is set to resume Saturday, Sept. 20, at 9:00 a.m. CT.
Singles
Minnesota Flight
Shelby Talcott (Iowa) def. Jieke Stroobant (UNI), 6-1, 6-1 Morven McCulloch (Iowa) def. Klara Supejova (EMU), 6-1, 6-3
Gopher Flight
Maria Avgerinos (Wisconsin) def. Annette Dohanics (Iowa), 6-0, 6-3 Katie Zordani (Iowa) def. Kelsey Grambeau (Wisconsin), 5-7, 6-2, 1-0 (9)
Maroon Flight
Ellen Silver (Iowa) def. Daphne Friedrichs (EMU), 6-1, 6-1
Gold Flight
Montana Crawford (Iowa) def. Cristina Alvares (NIU), 7-6 (1), 6-3
Doubles
Minnesota Flight
Chypyha/Avgerinos (Wisconsin) def. McCulloch/Dohanics (Iowa), 8-6
McCulloch/Dohanics (Iowa) def. Colarossi/Merar (UW-Milwaukee) 8-5
Davies/Rosa (SDSU) def. McCulloch/Dohanics (Iowa), 8-7 (3) (6th)
Talcott/Zordani (Iowa) def. Davies/Rosa (SDSU), 8-4
Talcott/Zordani (Iowa) def. Pronina/Galvis (ISU), 8-7 (7)
Chypyha/Avgerinos (Wiconsin) def. Talcott/Zordani (Iowa), 8-2 (2nd)
Maroon Flight
Brills/Eggleston (Drake) def. Silver/Crawford (Iowa), 8-5
Silver/Crawford (Iowa) def. Malkin/Stefancic (NIU), 8-2
Stroobant/Kemper (UNI) def. Silver/Crawford (Iowa), 8-6 (6th)