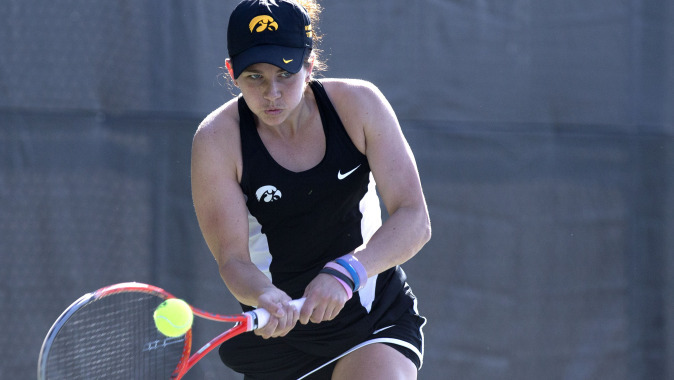 Sept. 20, 2014
Saturday Results

MINNEAPOLIS — The University of Iowa women's tennis team advanced two players into the singles finals of the Gopher Invitational on Saturday. Freshman Montana Crawford and senior Shelby Talcott both posted 2-0 records on Day 2 to advance to the finals of their respective brackets.
Crawford, a freshman competing in her first tournament as a Hawkeye, defeated Mimi Yunker of UND, 6-0, 7-5 and Caroline Haugh Andersen of ISU, 6-3, 6-2 to advance to the finals of the Gold Singles Flight.
Talcott advanced to the finals of the Minnesota Singles Flight, defeating Maya Vujic of Minnesota, 6-2, 6-1, and Nelle Youel of Northern Iowa 6-1, 7-5.
"I'm excited for tomorrow's match. I've had great competition all weekend and I'm looking forward to playing another great player tomorrow," said Talcott. "Montana also being in the final of her bracket is exciting, especially since it's her first college tournament. Everyone on the team has been competing really well."
Talcott and senior Ellen Silver placed third in the Draw 3 Doubles Flight, defeating UND's Ronkowski/Yunker, 8-0.
"I'm please with how we competed in singles today, especially our second round this afternoon," said UI head coach Katie Dougherty. "We've been able to look at different doubles combos the first two days and will see three different combos tomorrow. We're looking to finish strong tomorrow and build off our first two days."
Action will resume Sunday at 9 a.m. CT in Minneapolis.
Singles
Minnesota Flight Singles
Shelby Talcott (Iowa) def. Maya Vujic (Minnesota) 6-2, 6-1
Shelby Talcott (Iowa) def. Nelle Youel (Northern Iowa), 6-1, 7-5
Tereza Brichacova ( Minnesota) def. Morven McCulloch (Iowa), 6-4, 6-2
Morven McCulloch (Iowa) def. Callie Ronkowski (UND)
Gopher Flight
Annette Dohanics (Iowa) def. Julia Courter (Minnesota)
Annette Dohanics (Iowa) def. Andrea Martinovska (EMU), 6-1, 2-6, 1-0 (3)
Caroline Ryba ( Minnesota) def. Katie Zordani (Iowa), 6-2, 6-1
Katie Zordani (Iowa) def. Taylor Lederman (UK), 4-1, retire
Maroon Flight
Mehvish Safdar (Minnesota) def. Ellen Silver (Iowa), 6-4, 4-6, 1-0 (6)
Ellen Silver (Iowa) def. Mary Malkin (NIU), 6-4, 7-5
Gold Flight
Montana Crawford (Iowa) def. Mimi Yunker (UND), 6-0, 7-5
Montana Crawford (Iowa) def. Caroline Hauge Andersen (ISU), 6-3, 6-2
Doubles
Draw 2
McCulloch/Zordani (Iowa) def. N. Youel/Malkin (NIU), 8-5
Pronina/Budai (ISU) def. McCulloch/Zordani (Iowa), 8-4
Draw 3
Rincon Otero/Mozia (Minnesota) def. Silver/Talcott (Iowa), 8-3
Silver/Talcott (Iowa) def. Ronkowski/Yunker (UND), 8-0 (3rd)
Draw 7
Lopez/Santos (UNI) def. Crawford/Dohanics (Iowa), 8-2
Maslova/Brankovic (USD) def. Crawford/Dohanics (Iowa), 8-4