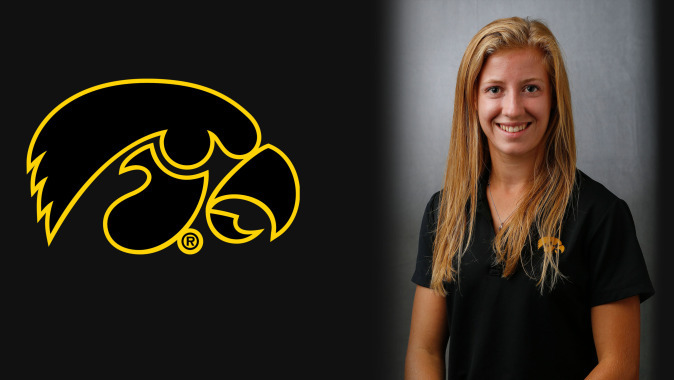 Sept. 21, 2014
Sunday Results

MINNEAPOLIS — University of Iowa women's tennis freshman Montana Crawford won a pair of titles Sunday at the Gopher Invitational.
Crawford defeated Elvira Lopez (UNI) 7-6 (6), 6-2 to take first place in the Gold Singles Flight, and teamed with senior Morven McCulloch to finish first in the Draw 10 Doubles competition.
Crawford and McCulloch defeated Hunt/Kemper (UNI), 2-0, retire, and Lederman/Trimble (UK), 8-2, to claim the doubles title.
Senior Shelby Talcott placed second in the Minnesota Flight, losing 6-2, 6-1 to Minnesota's Tereza Brichacova, and Iowa earned a runner-up finishes and Draw 3 and Draw 4 Doubles Flights.
Talcott and junior Annette Dohanics opened the Draw 3 Doubles Flight with an 8-3 win over Sprinkel/Yunker (UND), but fell in the championship to Chypyha/Averginos of Wisconsin, 8-6.
Senior Ellen Silver and Katie Zordani rolled to an 8-1 win in the semifinals of the Draw 4 bracket, but settled for second place after dropping an 8-6 decision to Otero/Courter (Minnesota) in the finals.
The Hawkeyes will return to action on Friday Sept. 26th at the Furman Fall Classic.
Singles
Minnesota Flight
Tereza Brichacova (Minnesota) def. Shelby Talcott (Iowa), 6-2, 6-1 (2nd)
Lauren Chypyha (Wisconsin) def. Morven McCulloch (Iowa), 6-0, 6-3 (6th)
Gopher Flight
Nell Boyd (Drake) def. Annette Dohanics (Iowa), 3-6, 6-2, 1-0 (14) (10th)
Maria Avgerinos (Wisconsin) def. Katie Zordani (Iowa), 4-1, retire (4th)
Maroon Flight
Jessika Mozia (Minnesota) def. Ellen Silver (Iowa), 6-2, 6-4 (6th)
Gold Flight
Montana Crawford (Iowa) def. Elvira Lopez (UNI), 7-6 (6), 6-2 (1st)
Doubles
Draw 3
Dohanics/Talcott (Iowa) def. Sprinkel/Yunker (UND), 8-3
Chypyha/Averginos (Wisconsin) def. Dohanics/Talcott (Iowa), 8-6 (2nd)
Draw 4
Silver/Zordani (Iowa) def. Stafancic/Malkin (NIU), 8-1
Rincon Otero/Courter (Minnesota) def. Silver/Zordani (Iowa), 8-6 (2nd)
Draw 10
McCulloch/Crawford (Iowa) def. Hunt/Kemper (UNI), 2-0, retire
McCulloch/Crawford (Iowa) def. Lederman/Trimble (UK), 8-2 (1st)