Sept. 21, 2014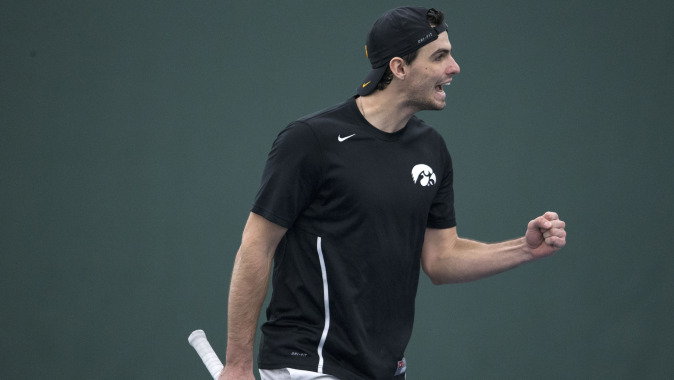 WEST LAFAYETTE, Ind./ PRINCETON, N.J–The Hawkeyes men's tennis team saw its weekend action come to an end today at the Purdue Fall Invitational and the Princeton Farnsworth Invitational.
"It was a good weekend of competition for our players, we played a lot of matches and our freshmen found out how tough college tennis really is," said interim head coach Ross Wilson.
At Purdue, the doubles team made up of freshman Jake Jacoby and sophomore Nils Hallestrand were anticipating a matchup against Tebon and Leto of the University of Wisconsin Green Bay in the doubles flight A consolation final. However, the match never came to fruition and due a withdraw Jacoby and Hallestrand went on to take the doubles consolation final.
At Princeton, Dominic Patrick and Josh Silverstein's play earned themselves a birth in the semifinal of the main draw in the black bracket of the doubles competition on Sunday. There they faced a battle against Chaudhuri and Lam of Harvard. The two Hawkeyes were ultimately downed by the Harvard men 8-4.
"I was very pleased with Dominic and Josh's performance in the doubles competition. They did well and importantly, competed well as a team all weekend," added Wilson.
Silverstein was also involved in an extra match against Dan Richardson of Princeton. Richardson beat Silverstein in straight sets 6-2, 6-0.
"We have a lot to improve on before next weekends' ITA All American-Tournament," said Wilson.
The Hawkeyes hit the road again next weekend at the ITA All-American Tournament in Tulsa, Oklahoma, on Sept. 27-29.
PURDUE INVITATIONAL Flight A Doubles Jacoby/Hallestrand (UI) def. Tebon/Leto (UWGB) w/o
PRINCETON INVITATIONAL BLACK DRAW Chaudhuri/Lam (Harvard) def. Parick/Silverstein (UI) 8-4
EXTRA MATCH Dan Richardson (Princeton) def. Josh Silverstein (UI) 6-2, 6-0