Box Score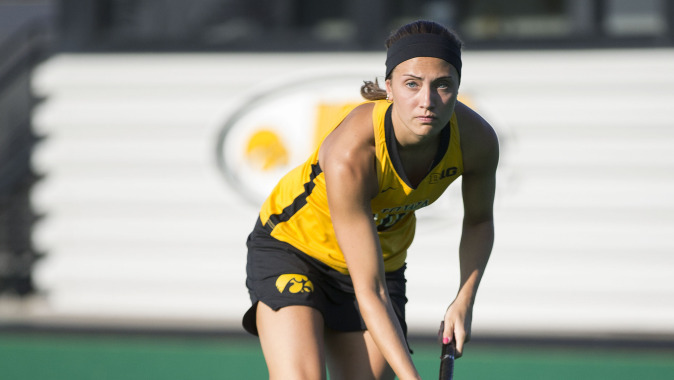 September 21, 2014
PISCATAWAY, N.J. — The ninth-ranked University of Iowa field hockey team (5-2, 1-0) defeated Rutgers on the road Sunday, 3-0, in Piscataway, New Jersey. The meeting between the two teams on Sunday marked the first-ever matchup as Big Ten conference foes.
Junior Natalie Cafone got off to a fast start netting the opening goal just under the four-minute mark to give Iowa a 1-0 lead.
The Hawkeyes and Scarlet Knights (4-3, 0-1) went back-and-fourth early as both defenses held strong to keep it a low-scoring first period. Iowa outshot Rutgers 13-7 in the opening half.
In the second period, Iowa struck first at the 49-minute mark benefitting from Cafone's second goal of the match to stretch the lead, 2-0. Sophomore Jessey Silfer registered the assist. Cafone — the 2013 NCAA statistical champion for points per game — now has a team-leading 11 goals this season, and 33 goals over her last 28 games.
Sara Watro tallied a goal of her own just two minutes later to extend the Hawkeye lead, 3-0. The score marked Watro's second on the season.
The Hawkeye defense held strong in the remaining minutes to secure the victory and push Iowa's record to 5-2. Sophomore goalkeeper Alex Pecora played the entire match, recording her first shutout of the season.
The Hawkeyes will see action next on Sept. 26 in Iowa City, Iowa taking on Indiana game time is set for 2:30 p.m. (CT) and is scheduled to air on Big Ten Network.