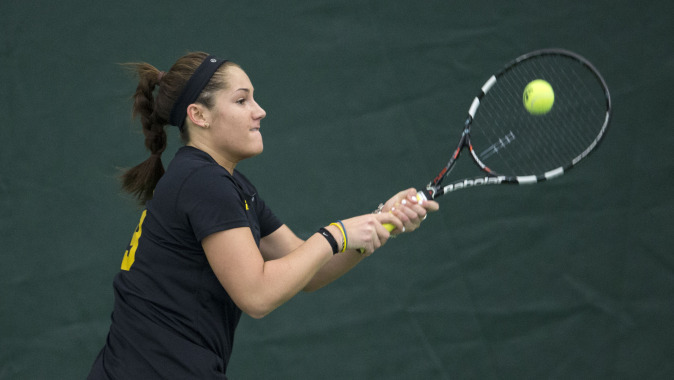 Sept. 26, 2014
Day One Results

GREENVILLE, S.C. — The University of Iowa women's tennis team advanced five singles to semifinal matches after the first day at the Furman Fall Classic in Greenville, S.C.
"The team brought great intensity into singles today and competed well in every match," UI head coach Kate Dougherty said. "We were much better in pressure situations today than we were last weekend and overall playing at a higher level."
Freshman Anastasia Reimchen made her Hawkeye debut at Furman, beginning the weekend with a victory over Daniela Ruiz (CU), 6-2, 2-6, 6-3. Fellow freshman Montana Crawford also saw success in singles play, defeating Alejandra Gil (FU), 7-5, 7-5.
Seniors Shelby Talcott, Morven McCulloch, and Ellen Silver were also victorious in their singles matches. Talcott defeated USC's Caroline Dailey, 3-6, 6-1, 6-2 in Flight One, while McCulloch overtook Alex Moreno-Kaste (FU) 6-0, 6-2 in Flight Two.
Silver competed in Flight Five of the tournament, taking on Carola Pederzani (CU) and coming out on top with a 2-6, 7-5, 6-2 victory. She teamed up with Reimchen during doubles play, and defeated Robinette/Leavell (VU), 8-2 after a loss to CU's Pederzani/Ruiz, 8-6.
"I feel great about how I competed today and I was so happy to be a part of Anastasia's first doubles win as a Hawkeye," Silver said. "Overall, the team competed well today and we are taking steps forward each day."
Competition at Furman is set to resume at 9 a.m. in the Mickel Tennis Center.
Singles
Flight One
Shelby Talcott (Iowa) def. Caroline Dailey (USC), 3-6, 6-1, 6-2
Flight Two
Morven McCulloch (Iowa) def. Alex Moreno-Kaste (FU), 6-0, 6-2
Flight Three
Courtney Colton (VU) def. Katie Zordani (Iowa), 6-2, 6-2
Flight Four
Carmen Blanco (UA) def. Annette Dohanics (Iowa), 7-5, 6-2
Flight Five
Ellen Silver (Iowa) def. Carola Pederzani (CU), 2-6, 7-5, 6-3
Flight Six
Anastasia Reimchen (Iowa) def. Daniela Ruiz (CU), 6-2, 2-6, 6-3
Flight Seven
Montana Crawford (Iowa) def. Alejandra Gil (FU), 7-5, 7-5
Doubles
Flight One
Colton/Campbell (VU) def. Talcott/Dohanics (Iowa), 8-2
Speaks/Moreno (FU) def. Talcott/Dohanics (Iowa), 8-5
Flight Two
Cochran/Dailey (USC) def. Zordani/McCulloch (Iowa), 8-6
Olivarez/Lindl (UT) def. Zordani/McCulloch (Iowa), 8-6
Flight Three
Pederzani/Ruiz (CU) def. Reimchen/Silver (Iowa), 8-6
Reimchen/Silver (Iowa) def. Robinette/Leavell (VU), 8-2
Flight Four
Siles/Fosnacht (USC) def. Crawford (Iowa)/Dunn (UA), 8-1