Box Score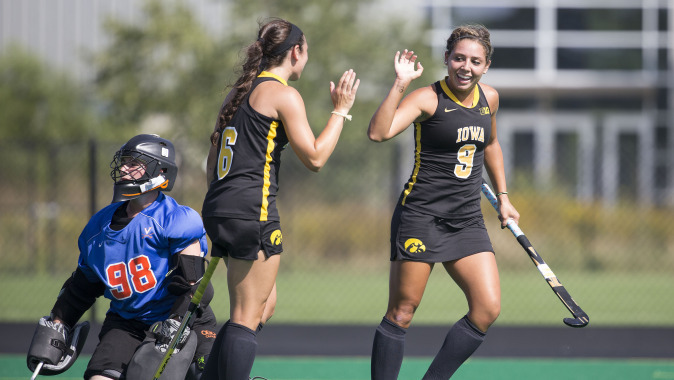 September 26, 2014
IOWA CITY, Iowa — The eighth-ranked University of Iowa field hockey team (6-2, 2-0) earned a 4-1 win over Indiana (7-1, 0-1) on Friday at Grant Field in Iowa City. Junior Natalie Cafone and sophomore Stephanie Norlander each scored two goals propelling the Hawkeyes to a 6-2 record.
"This was definitely one of the most complete games we've played all year," said UI head coach Lisa Cellucci. "We've always had a lot of confidence in our girls. We knew Indiana would be a tough team but we were able to wear them down."
Stephanie Norlander was the first to strike for the Hawkeyes at the 1:47 mark, scoring from close range.
"The first score was a little hectic around the goal," said Norlander. "I did a reversal and checked who was open, then I shot it and it went in."
The Hoosiers evened the score at 1-1 in the 18th minute before Cafone took over. The Fairfield, New Jersey native attacked Indiana's Maggie Olson with four shots before netting her fifth to give Iowa a 2-1 advantage going into halftime.
Cafone — who entered the game ranked second nationally in goals per game (1.57) — again stretched the home team's lead, 3-1, in the 52nd minute with her second goal of the game, and 13th score this season.
"We had a lot of opportunities to score," said Cafone. "We tried to get as many shots in as we could and I think we did a really good job of that."
Norlander closed the door on the visiting team with her second score of the game coming off a corner with just over 13 minutes to go in regulation. Chandler Ackers registered the assist. The goal marked Norlander's fifth this season.
The Hawkeyes return to action Sunday at home squaring off with Missouri State at 1 p.m. (CT).