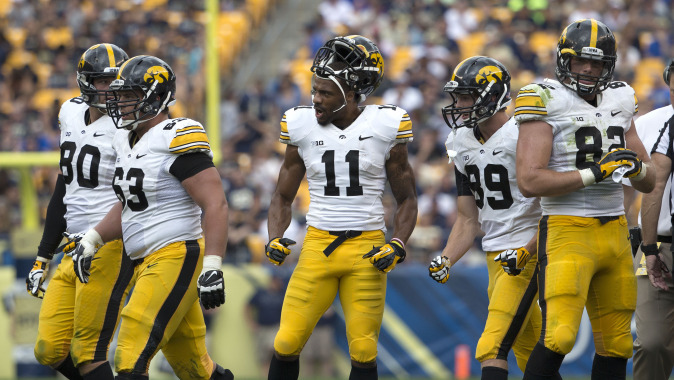 Sept. 27, 2014
Editor's Note: The following first appeared in the University of Iowa's Hawk Talk Daily, an e-newsletter that offers a daily look at the Iowa Hawkeyes, delivered free each morning to thousands of fans of the Hawkeyes worldwide.
By MATTHEW WEITZEL
hawkeyesports.com
WEST LAFAYETTE, Ind. — Opening its Big Ten season on the road isn't anything new for the University of Iowa football team. Today's game at Purdue marks the 12th time in 16 seasons under head coach Kirk Ferentz that the Hawkeyes open league play away from Kinnick Stadium.
Iowa has had recent success in road contests, winning three-straight and five of its last six on the road dating back to the start of the 2013 season. This includes a 24-20 victory at Purdue on Sept. 20.
Entering today's game, Iowa, Ohio State, and Maryland are the only Big Ten teams to have five road wins since the start of 2013, and only six teams in the country have posted more road wins.
Junior safety Jordan Lomax says preparation and extra focus is paramount when the team competes at a road venue.
"I feel like we come together when we are on the road," said Lomax. "It's important that we stay together and execute the game plan."
During the streak, Iowa has executed in all three phases.
Offensively, the Hawkeyes have averaged 29 points per game, 387 yards of total offense, 21 first downs, and a 52 percent conversion rate on third downs in the six road contests. Junior running back Jordan Canzeri says putting in hard work at practice and respecting each opponent is important.
"With this being the first Big Ten game, we want to practice hard all week and carry that over to the game," Canzeri said. "It's all about having a mindset that we create and not letting any adversity affect us."
On defense, Iowa has held opponents to 19 points, 328 yards, 5.2 tackles for loss and forced nine turnovers (seven interceptions and two fumbles) away from Iowa City. Senior defensive tackle Carl Davis says he embraces being the "bad guy" on road trips.
"I like going into other stadiums and people booing us," said Davis. "There's nothing better than going into someone else's house and winning."
In the kicking game, Mike Meyer, Marshall Koehn, and Mick Ellis have combined to convert 9-of-10 field goals and make all 21 PAT attempts in the six games on the road. Connor Kornbrath and Dillon Kidd have pinned opponents inside the 20-yard line 10 times on 23 punts, while also booting five punts over 50 yards. And when opponents do return punts, return yardage has been minimal — five returns for an average of 4.0 yards.
Iowa has also been disciplined on the road, being flagged only 2.8 penalties and 22.5 yards per game in the six road games since the start of 2013.
"We want to play be able to play a good, clean game of football," said senior guard Andrew Donnal.
Last season, Iowa started conference play 1-0 after a 23-7 road triumph at Minnesota. The Hawkeyes will look to match that start today when the Hawkeyes and Boilermakers kickoff the 2014 Big Ten schedule at 11:01 a.m. (CT) at Ross-Ade Stadium.
Today's game marks the first time since 1951 that Iowa opens its league slate against Purdue. Fans can watch the action on BTN (BTN2GO) or listen via the Hawkeye Radio Network.