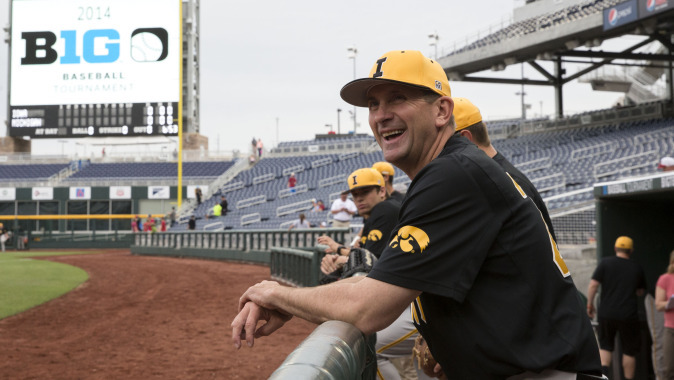 Oct. 6, 2014
IOWA CITY, Iowa — Second-year head coach Rick Heller announced the details of the University of Iowa baseball team's 53-game 2015 schedule Monday. The Hawkeyes will play 14 games against NCAA Tournament teams from a season ago.
Iowa opens the season in the Sunshine State, facing Kansas State, Saint Louis, and NCAA qualifier George Mason from Feb. 13-15 at the Snowbird Classic in Port Charlotte, Florida. The following weekend Iowa heads to Little Rock, Arkansas, for three games — two at UALR and one against Missouri State.
From Feb. 27-March 1, the Hawkeyes will travel south for the USA Baseball-Irish Classic, which will be held at the USA Baseball National Training Complex in Cary, North Carolina. Iowa will face Cincinnati and Richmond at the facility before closing out the trip with a road game at North Carolina State.
Iowa's final three nonconference weekends will be traditional road series at Middle Tennessee State (March 6-8), Houston Baptist (March 14-16), and Kansas (March 20-22). The Jayhawks went 35-26 during the 2014 season en route to an NCAA Regionals appearance.
The Hawkeyes' home opener at Duane Banks Field is scheduled for March 11 against AIB. Iowa has a five-game home stand from March 25-31 with dates against Bradley (March 25), Indiana (March 27-29) and Grandview (March 31). The Hoosiers won both the Big Ten regular season and tournament titles in 2014 and hosted an NCAA Regional.
Iowa opens the month of April with a road contest at Western Illinois on April 1 before traveling to West Lafayette, Indiana, to face Purdue from April 3-5. Iowa returns home for an April 8 midweek contest against Milwaukee before heading to Maryland for a three-game series from April 10-12. The Terrapins finished 40-23 and advanced to the NCAA Super Regionals in 2014.
Following an April 14 game at Bradley, the Hawkeyes return to Banks Field for a season-long nine-game home stand, hosting Cornell College (April 15), Northwestern (April 17-19), Northern Illinois (April 22), Nebraska (April 22-25), and Sacramento State (April 28). The Huskers and Hornets were both NCAA Tournament qualifiers last season.
Iowa begins the final month of the regular season with a three-game road series at Michigan from May 1-3 before returning to Iowa City to face Western Illinois (May 5) and Minnesota (May 8-10) to close out the home schedule. Senior Day festivities will be held May 10.
The Hawkeyes head to New Jersey for the final Big Ten series, facing Rutgers from May 14-16.
The top eight teams in the regular season standings will advance to the 2015 Big Ten Tournament at Target Field in Minneapolis from May 20-24. NCAA Regional action will be held from May 29-31.
The Hawkeyes return 19 letterwinners, including seven positional starters, three starting pitchers, and their closer, from a team that advanced to and won a game in the Big Ten Tournament en route to a 30-23 finish. The 30 victories were the most for the program since 2010.
Click HERE for the complete 2015 Iowa baseball schedule.