Oct. 11, 2014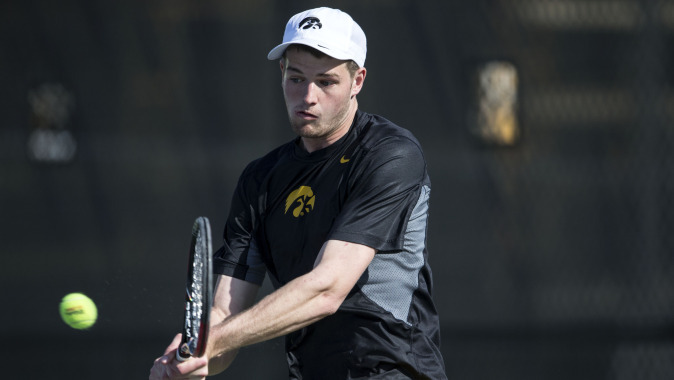 NORMAN, Okla. — The University of Iowa men's tennis was back in action at the ITA Regional Tournament Saturday at Headington Family Tennis Center. Among the participants were freshmen Jake Jacoby and Josh Silverstein, junior Dominic Patrick, and senior Matt Hagan.
Hagan had himself a great day posting two victories, resulting in a trip to the Round of 16 in the main draw. He started his run with a win in the first round over Guillermo de Vilchez of Wichita State in straight sets (7-5, 6-2). The victory in the first round set the senior up with a match in the second round against No. 11 seed Alex Ghilea of Oklahoma. He was able to continue the winning streak, taking the match in straight sets (6-3, 6-3). Hagan becomes the first Hawkeye to advance to the singles round of 16 at the ITA Regionals since Jonas Dierckx in 2012.
"Matt had one of the best wins of his career today. We have been waiting for this type of break out performance from him this fall," said interim head coach Ross Wilson.
Patrick was also able to register a victory in the first round of the singles main draw, defeating Michael Kianacka of Southern Illinois (Carbondale), 6-3, 6-1. However, he was not able to record a second win falling to Dane Webb of Oklahoma (6-2, 6-4).
"Dominic and Matt were able to lead the team today with their dominating performances in the first round," added Wilson.
Jacoby lost his first round match against Minnesota's Jack Hamburg (6-2, 6-4). However, he was able to bounce back with a good end to his tournament in a drawback match posting a triumph over Minnesota's Jeremy Lynn (6-3, 6-3).
"Jake played another solid match today, but could not capitalize on his opportunities in the second set," said Wilson.
Silverstein fell to Airam Castellano from the University of Missouri (Kansas City), 6-1, 6-1, in a first-round match. Like Jacoby, he participated in a drawback match, but fell to Nebraska's Linus Earhart (6-1, 6-3).
Competition concludes tomorrow at the Headington Family Tennis Center.
ITA REGIONAL TOURNAMENT
Saturday's results
Main Draw first round singles
Matt Hagan (UI) def.Guillermo de Vilchez (WSU): 7-5, 6-2
Dominic Patrick (UI) def. Michael Kianacka (SIUC): 6-3, 6-1
Jack Hamburg (MINN) def. Jake Jacoby (UI): 6-2, 6-4
Airam Castellano (UMKC) def. Josh Silverstein (UI): 6-1, 6-1
Main Draw second round singles
Matt Hagan (UI) def. Alex Ghilea (OKLA): 6-3, 6-3
Dane Webb (OKLA) def. Dominic Patrick (UI): 6-2, 6-4
Drawback Matches
Jake Jacoby (UI) def. Jeremy Lynn (MINN): 6-3, 6-3
Linus Earhart (NEB) def. Josh Silverstein (UI): 6-1, 6-3