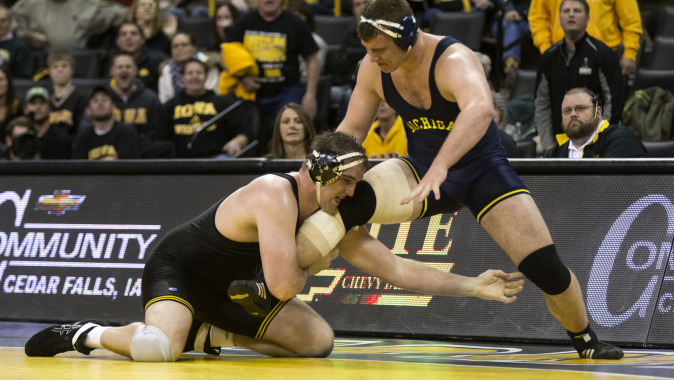 Oct. 16, 2014
IOWA CITY, Iowa — The University of Iowa Wrestling Program announced Thursday that the 2014-15 season will open Nov. 15 at the Luther Open in Decorah, Iowa.
The Hawkeyes were originally scheduled to open the season hosting the Iowa City Duals on Nov. 21. That date has not changed. Baker University, Cornell College, and Iowa Central open the home schedule beginning at 9 a.m. (CT).
Iowa hosts Iowa State in the Iowa Corn Cy-Hawk Series on Saturday, Nov. 29 at 7 p.m. (CT). That is a change from the original schedule released in August.
Iowa also announced that Virginia will be its opening round opponent for the Cliff Keen National Duals on Feb. 15 in Iowa City, Iowa. The winner of the opening round advances to the eight-team final round on Feb. 22 at Carver-Hawkeye Arena. The Hawkeyes are hosting the Cliff Keen National Duals for the first time since 1999.
The Iowa City Duals and Cliff Keen National Duals are part of the 2014-15 season ticket package. Contact the UI Athletics Ticket Office over the phone at 1-800-IA-HAWKS, online at hawkeyesports.com, or in person at Carver-Hawkeye Arena for season ticket information.
Changes to Iowa's road schedule have also been announced. The Hawkeyes wrestle Minnesota in Minneapolis on Friday, Jan. 30, not Sunday, Feb. 1, as originally announced.
Road dates at Penn State and Maryland have also been flipped. The Hawkeyes wrestle at Maryland on Friday, Feb. 6, and at Penn State on Sunday, Feb. 8.
Television dates and a complete list of start times will be announced at a later date.