Oct. 18, 2014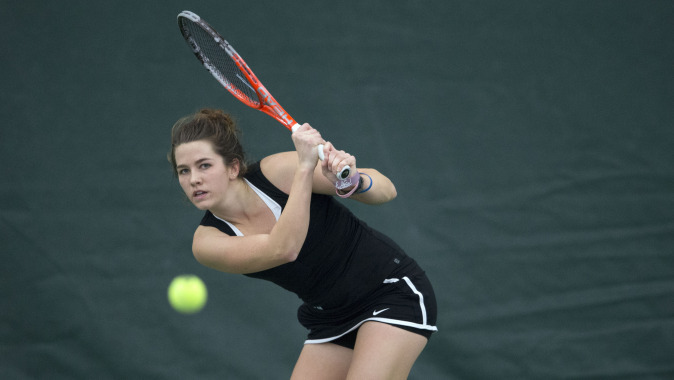 Oct. 18, 2014
Doubles Bracket- Saturday

Singles Consolation Bracket

STILLWATER, Oklahoma — University of Iowa women's tennis senior Shelby Talcott found success competing in the singles consolation bracket after a pair of victories Saturday at the ITA Regional Championships.
Talcott started the day defeating Arkansas' Shannon Hudson, 6-4, 6-2 and went on to beat Laskutova (TU), 7-5, 6-1. Although consolation play has concluded for the tournament, singles and doubles will continue throughout Sunday and Monday.
Senior Morven McCulloch found success during her first singles match, defeating Alexis Czapinski of Kansas, 6-4, 6-3. After a battle in her second match, McCulloch fell to Arkansas' Sasha Shkorupeieva, 6-7 (6), 6-3, 15-13.
McCulloch teamed up with fellow senior, Ellen Silver, and split a pair of matches in the doubles bracket. The pair topped Chrysanthou/Baza of SIU, 8-3, but were later defeated by Pump/Trifunovic (WSU), 8-4.
Competition resumes Sunday with both singles and doubles matches throughout the day at the Greenwood Tennis Center.
Consolation Singles
Shelby Talcott (Iowa) def. Shannon Hudson (Arkansas), 6-4, 6-2
Shelby Talcott (Iowa) def. Laskutova (TU), 7-5, 6-1
Jasmine Almauger (KU) def. Ellen Silver (Iowa),6-3, 7-5
Morven McCulloch (Iowa) def. Alexis Czapinski (KU), 6-4, 6-3
Sasha Shkorupeieva (Arkansas) def. Morven McCulloch (Iowa), 6-7 (6), 6-3, 15-13
Doubles
McCulloch/Silver (Iowa) def. Chrysanthou/Baza (SIU), 8-3
Pump/Trifunovic (WSU) def. McCulloch/Silver (Iowa), 8-4