Oct. 22, 2014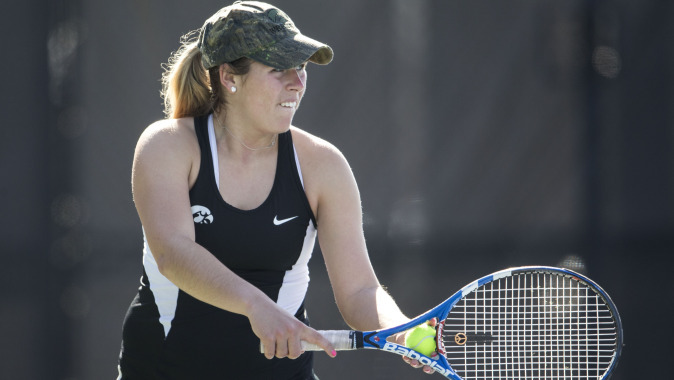 Oct. 22, 2014
IOWA CITY, Iowa — The University of Iowa women's tennis team continues its fall tournament play this week at the Drake Jamboree in Des Moines, Iowa. The tournament begins Friday and concludes Sunday at the Roger Knapp Tennis Center.
In addition to Iowa, tournament participants include Kansas State, Nebraska, Creighton, SIUE, and Drake.
"We're looking to finish up the fall season on a high note in Des Moines," said UI head coach Katie Dougherty. "We have played some very high level tennis and players this fall, and this tournament will be no different."
Last season the Drake Jamboree proved to be a good test for Iowa. The Hawkeyes posted an overall record of 10-0 on the final day of the tournament and finished the weekend winning 19-of-20. Seniors Katie Zordani and Ellen Silver, along with sophomore Aimee Tarun gathered singles titles.
"We have the opportunity to try out more doubles combos and get a lot of match play. Zordani was sick last weekend and didn't get to go to Regional and we'll be looking to her and Dohanics to lead the group this weekend."
Competition begins Friday at 11 a.m. (CT), with Saturday and Sunday matches starting at 9 a.m. (CT).