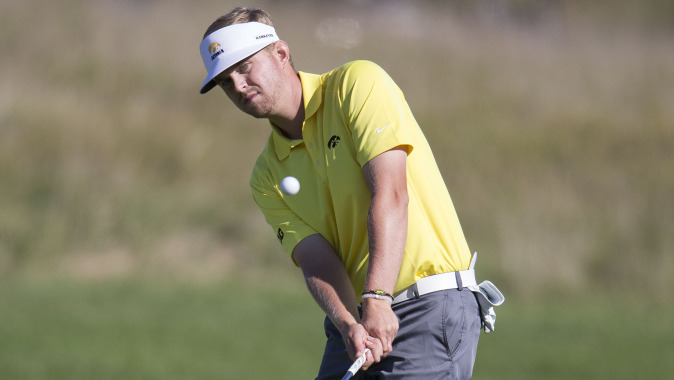 Oct. 24, 2014
THIS WEEK
The University of Iowa men's golf team travels to Dallas, Texas, to conclude its fall schedule and compete in the seventh annual Royal Oaks Intercollegiate, hosted by Baylor University at the Royal Oaks Country Club. The two-day tournament begins on Monday, Oct. 27, with two back-to-back rounds of 18 holes, and concludes on Tuesday with a final round of 18.
THE FIELD
Iowa joins fellow Big Ten opponents Michigan and Minnesota, Duke, Houston, New Mexico, Oklahoma, Oklahoma State, SMU, Texas Tech, UT-Arlington, and tournament host Baylor.
THE LINEUP
With the Royal Oaks Intercollegiate being a play-six-count-five event, seniors Brian Bullington and Ian Vandersee, juniors Voramate Aussarassakorn and Nate Yankovich, and sophomores Raymond Knoll and Carson Schaake make up the lineup for Iowa this weekend. Aussarassakorn will be making his season debut.
THE COURSE
The Royal Oaks Country Club will play as a 7,068-yard, par-71 for the Royal Oaks Intercollegiate. Royal Oaks Country Club was founded in 1969, and is in its seventh year of hosting the Royal Oaks Intercollegiate.
PREVIOUS APPEARANCES AT THE ROYAL OAKS INTERCOLLEGIATE
Iowa has competed in the last five Royal Oaks Intercollegiate tournaments. Two Hawkeyes have been crowned individual champions at the Royal Oaks Intercollegiate, including Ian Vandersee who won the event in 2012, carding a three-round score of 206 (-7), propelling the Hawkeyes to a fifth-place finish. Iowa won the tournament in 2010, fueled by Vince India's two-round total of 132 (-10) and first place finish. The Hawkeyes tied for third in 2009 and tied for sixth in last year's outing.
LAST TIME OUT
Sophomore Carson Schaake paced the University of Iowa men's golf team at the ninth annual U.S. Collegiate Championship, finishing tied for 11th after 54 holes at The Golf Club of Georgia. The Hawkeyes finished 11th in the 15-team field that featured 10 top 25 teams, compiling a three-round score of 869 (+5; 291, 289, 289).
HAWKEYES IN THE RANKINGS
The University of Iowa men's golf team is ranked 38th in the most recent Golf Coaches Association of America (GCAA) Poll released on Oct. 3. Iowa is the third-highest ranked Big Ten team in the poll. Iowa is also ranked 43rd out of 262 teams in the Golfweek/Sagarin Rankings.
6-STRAIGHT NCAA APPEARANCES
Iowa has advanced to NCAA competition in each of the last six seasons, joining Illinois and Northwestern as the only Big Ten teams selected to NCAA Regional competition in each of the last six seasons. Iowa has advanced to the NCAA Championship finals three times in the last six years.
SCHAAKE PACES HAWKEYES
Sophomore Carson Schaake posted rounds of 69, 71, and 72 for a three-round total of 212 (-4), finishing tied for 11th at last weeks U.S. Collegiate Championship. He has led Iowa in all four events so far this season. The Omaha, Nebraska, native finished tied for fifth at the Golfweek Conference Challenge (Sept. 14-16), tied for fourth at the Windon Memorial (Sept. 21-22), and tied for 13th at the Rod Myers Invitational (Oct. 11-12). Schaake has posted nine rounds (out-of-11 rounds) this fall at-or-below par, including six under par. Schaake is ranked 49th in the Golfweek Individual Rankings.
NEW FACE AT THE HELM
Tyler Stith is in his first year as the head coach at the University of Iowa in 2014-15. Stith was named the UI head coach on Aug. 22, 2014. Stith, a former assistant coach and student-athlete at Iowa, served as assistant coach at Minnesota the last three years.
FOLLOW THE HAWKEYES
For an inside look at the men's golf program and to access exclusive coverage, "like" Hawkeye men's golf on Facebook (/hawkeyemensgolf) and follow @IowaHawkeyeGolf on Twitter.