Oct. 26, 2014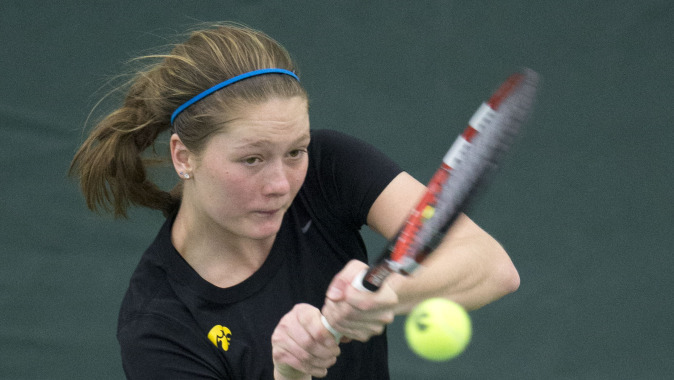 Oct. 26, 2014
DES MOINES, Iowa — The University of Iowa women's tennis team concluded its fall tournament schedule on Sunday at the Drake Jamboree. The Hawkeyes finished the weekend 26-6, 8-0 during the final day of competition.
"We finished strong today and I'm very proud of the toughness we showed in the final matches," UI head coach Katie Dougherty said. "There were tough conditions that we battled through outdoors and showed a lot of grit. "
Sophomore Aimee Tarun completed the weekend undefeated in singles play. Tarun overcame Mela Jaglarz (DU), 6-2, 6-0. The Hawkeye finished at Drake 4-0 and 3-1 in doubles play with teammate Katie Zordani. The duo defeated Livia Cirnu and Amina St. Hill of KSU, 8-5 on Sunday.
Senior Annette Dohanics and freshman teammate Anastasia Reimchen proved their strength as a team, finishing with an undefeated doubles record of 4-0. The pair overcame Kansas State's Iva Bago and Laura Hopton, 8-7 (4) to seal their perfect record during the weekend.
Reimchen, Doahnics, and Zordani, along with freshman Montana Crawford, all concluded weekend competition with 3-1 singles records. Reimchen took on DU's Adrienne Jensen, coming out on top with a 3-6, 3-0, retired victory. Dohanics improved her singles game throughout the weekend, finishing with a win over Laura Hopton (KSU), 6-2, 7-6 (6). Crawford also defeated a Kansas State Wildcat, overcoming Riley Nizzi, 6-4, 6-2. Zordani found success over Lea Kozulic (DU), 7-5, 6-3.
"This fall was definitely a growing period for us as a team and I feel like we've made huge strides physically and mentally on the court," Dougherty said. "The work we've put in on the court and in the gym was evident today and last weekend."
The Hawkeyes will return to action on January 17, 2015 to kick off their spring schedule at the UCF Knight Invitational in Orlando, Fla.
Singles
Anastasia Reimchen (IOWA) def. Adrienne Jensen (DU), 3-6, 3-0 retired
Katie Zordani (IOWA) def. Lea Kozulic (DU), 7-5, 6-3
Annette Dohanics (IOWA) def. Laura Hopton (KSU),6-2, 7-6 (6)
Montana Crawford (IOWA) def. Riley Nizzi (KSU), 6-4, 6-2
Aimee Tarun (IOWA) def. Mela Jaglarz (DU), 6-2, 6-0
Doubles
Dohanics/Reimchen (IOWA) def. Iva Bago/Laura Hopton (KSU), 8-7 (4)
Tarun/Zordani (IOWA) def. Livia Cirnu/Amina St. Hill (KSU), 8-5
Crawford (IOWA)/Cassia Wojtalik (BU) def. Aimee Manfredo/Elizabeth Przystawski (BU), 8-6