Oct. 31, 2014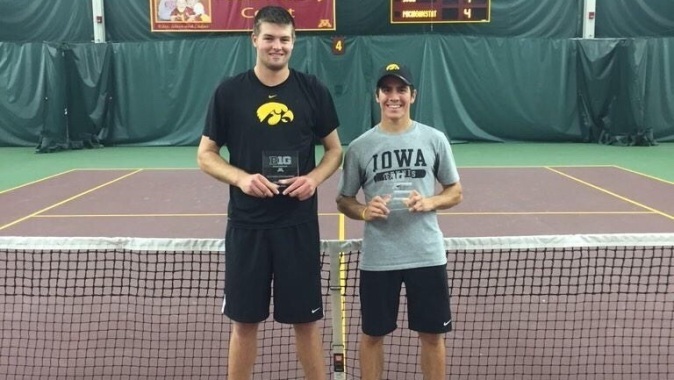 Day One Results

MINNEAPOLIS, Minn. — The University of Iowa men's tennis squad was back in action at the Big Ten Indoor Singles/Doubles Championships Friday at Baseline Tennis Center, marking the start of the tournament with the doubles portion. Among the participants were freshmen Jake Jacoby and Josh Silverstein, junior Dominic Patrick, sophomore Nils Hallestrand and seniors Matt Hagan and Andres Estenssoro.
The doubles team consisting of Hagan and Patrick had a performance not seen in Hawkeye tennis in 56 years registering four straight victories, en route to a historic day. The upperclassmen's big day started out with a Round of 16 matchup against Wisconsin's Carranza/Zordani, the two Hawkeyes were able to take the match (8-4). The win resulted in a Flight A quarterfinals match against Bradford Zitsch/Dusty Boyer of Nebraska, in a close match they finished ahead with an (8-6) score. On a two-match win streak, the duo were set to square off against Tyler Gardiner/Kevin Wong of Michigan in a semifinal battle, they stayed consistent gaining another win taking the match (8-4). Riding a three-match win streak and looking history in the face, their next match was for the Flight A Doubles Championship against Michigan State's Jadun/Mullane. The Hawkeye teammates came out victorious winning the match (8-4), taking the Flight A Doubles crown. The duo made history becoming only the third Iowa Big Ten Doubles Champions and first since David Nairn/John Nadig in 1960 (third flight); James Andrews/Robert Potthast were the first team to win a Big Ten Doubles Championship in 1958 (first flight).
"Dominic and I really competed well today. Our games both complement each other well and it definitely showed today. We played a lot of tough teams and for us to come out as Big Ten Champions is another step in the right direction for this fine Iowa tennis program," said Hagan.
"Matt and Dominic played at an extremely high level all day. It was a huge win for them and a huge win for our program. We will enjoy their success as a team tonight and we'll be ready to battle when singles play start on Saturday," said interim head coach Ross Wilson.
Also in action in the Flight A bracket was Jacoby/Silverstein. They faced a stern test against eventual finalist Jadun/Mullane of Michigan State in the Round of 16, falling 8-4. Their next matchup was a consolation match, which saw them face Nebraksa's Elsass/Erhart where they were unable to register a victory losing (8-4). The team got their win on the board taking a consolation match (8-3), defeating Dages/Silva of Purdue.
Over in the Flight B Doubles bracket Estenssoro/Hallestrand went 2-1. After losing their first match, a quarterfinal against Sinha/Mackenzie of Wisconsin (8-2), they were able to get back on track with back-to-back consolation victories over Dodridge/Jalalov of Wisconsin (8-3) and Shin/Schindler of Nebraska (8-5).
Iowa continues action at Baseline Tennis Center Saturday with Singles Action in the Big Ten Championships.
BIG TEN SINGLES/DOUBLES CHAMPIONSHIPS
Friday's results
Flight A Main Draw round of 16 doubles
Hagan/Patrick (UI) def. Carranza/Zordani (WISC): 8-4
Jadun/Mullane (MSU) def. Jacoby/Silverstein (UI): 8-4
Flight A Main Draw Quarterfinals
Hagan/Patrick (UI) def. Boyer/Zitsch (NEB): 8-6
Flight A Main Draw Semifinals
Hagan/Patrick (UI) def. Gardiner/Wong: 8-4
Flight A Main Draw Championship
Hagan/Patrick (UI) def. Jadun/Mullane (MSU): 8-4
Flight A Consolation Rounds
Elsass/Erhart (NEB) def. Jacoby/Silverstein (UI): 8-4
Jacoby/Silverstein (UI) def. Dages/Silva (PUR): 8-3
Flight B Main Draw Quarterfinals
Sinha/Mackenzie (WISC) def. Estenssoro/Hallestrand (UI): 8-2
Flight B Consolation Rounds
Estenssoro/Hallestrand (UI) def. Dodridge/Jalalov (WISC): 8-3
Estenssoro/Hallestrand (UI) def. Shin/Schindler (NEB): 8-3