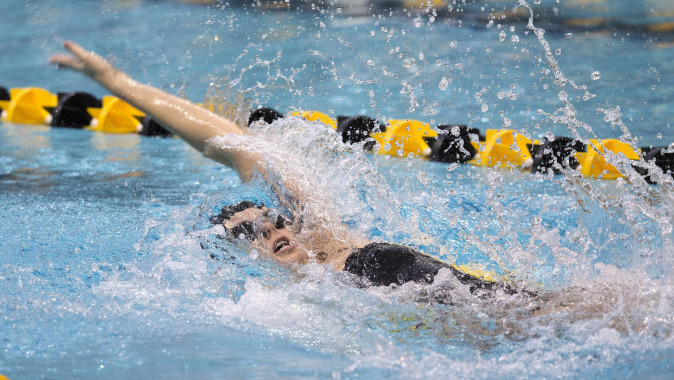 Oct. 31, 2014
MINNEAPOLIS — The University of Iowa women's swimming and diving team dropped a 195-105 decision to Minnesota on Friday night in a Big Ten dual at the University Aquatic Center in Minneapolis. The Hawkeyes (2-2) recorded four first-place finishes to go along with three runner-up spots.
"I'm really proud of our team tonight," said UI head coach Marc Long. "It's disappointing to lose but we stayed in there, we battled, and we competed. Our team was hungry tonight, we performed well, and we're going to bounce back from this and keep improving. We've got the type of energy you want in the team and it's exactly what we expect from them."
Iowa got off to an exciting start in the opening race, swimming to a victory in the 200 medley relay. The quartet of Meghan Lavelle, Emma Sougstad, Tereysa Lehnertz, and Olivia Kabacinski swam to a season-best time of 1:43.13.
Sougstad led the way for the Hawkeyes, posting two NCAA `B' cut times, three top finishes, and a third-place finish in her final race. The Forest City, Iowa, native posted top times in the 200 medley relay (1:43.13), 200 breaststroke (2:15.66), 100 breaststroke (1:01.28), and finished third in the 400 free relay (3:27.90).
The Hawkeyes claimed three of the top four spots in the 200 breaststroke. With a top finish from Sougstad, junior Colleen Champa claimed third-place (2:21.26), and freshmen Shea Hoyt took fourth-place with a time of 2:22.25.
Newcomer Rowan Hauber had a strong showing in the 100 backstroke with a first-place time of 55.43. The Tualatin, Oregon, native also finished runner-up in the 200 backstroke (2:01.33).
In the 1,000 freestyle, Becky Stoughton took second-place with a time of 9:50.38. The Peoria, Illinois, native swam to a third-place finish with a season-best time in the 500 freestyle (4:52.68).
In the diving well, the Hawkeyes posted top-five finishes in both 1-meter diving and 3-meter competition. Kelba led the way in 1-meter competition diving to a fourth-place finish (279.90). Christy placed fifth with a score of 278.33. In 3-meter competition Christy finished runner-up with a season-best 306.38. Lydia Lehnert finished fifth with a score of 274.73.
"We did a good job tonight," said UI diving coach Todd Waikel. "We fought hard and battled all night. Our girls are headed in the right direction and we're going to get back into the pool and keep improving. We're headed in the right direction and I'm looking forward to what lies ahead for us."
The Hawkeyes return to action Dec. 5-7, hosting the Hawkeye Invitational at the Campus Recreation and Wellness Center Pool, in Iowa City, Iowa.