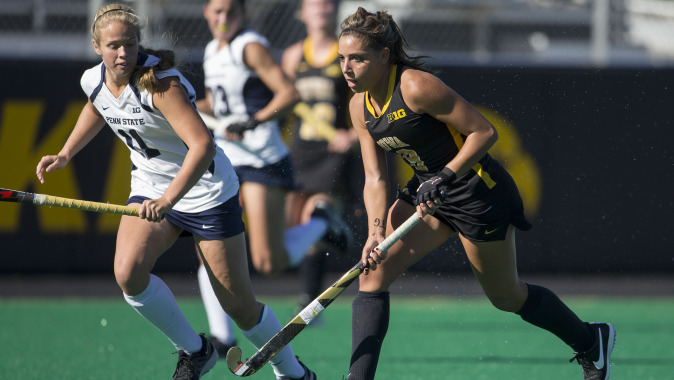 Nov. 5, 2014
IOWA CITY, Iowa — Three University of Iowa field hockey student-athletes — Natalie Cafone, Stephanie Norlander, and Dani Hemeon — have earned All-Big Ten honors, the conference announced Wednesday. Cafone was named the Big Ten Offensive Player of the Year, becoming the first Hawkeye to garner the award since her high school coach Diane DeMiro in 1995. Cafone also joined Norlander on the All-Big Ten first team, while Hemeon earned second team accolades. Senior Brynn Gitt is Iowa's Sportsmanship Award Honoree.
Cafone, a junior who led the nation in points per game as a sophomore in 2013, paced the Hawkeye offense during the regular season, scoring 42 points on 18 goals and six assists. The Fairfield, New Jersey, native moved into the program's top-10 all-time scoring list on Oct. 25, after scoring in a 4-0 win over No. 4 Penn State, tying her former coach and former Hawkeye DeMiro on the all-time scoring list.
Cafone leads the conference in points per game (2.47) and goals per game (1.06), while ranking sixth and fourth in the nation in the categories, respectively. A member of the 2014-15 U.S. Women's National Team, she earns her second first team All-Big Ten honor after being named to the squad a year ago. Last season, Cafone was also named to the NFHCA Division I All-America second team, the NFHCA West Region All-America first team, and the All-Big Ten Tournament team.
Norlander, the 2013 Big Ten Freshman of the Year, ranks fifth in the Big Ten in points per game (2.0) and third in goals per game (0.88), and 14th and 10th nationally in the categories, respectfully. She has tallied 34 points this season on 15 goals and four assists, and has notched four game-winning goals. The North Vancouver, Canada, native posted back-to-back hat tricks against Missouri State on Sept. 28, and Ball State on Oct. 3. She received Big Ten Player of the Week accolades on Sept. 30.
Hemeon, a senior, earns her second all-conference honor after being named to the All-Big Ten first team as a junior. The Gilroy, California, native has accounted for 20 points off eight goals and four assists this season. Hemeon scored a hat trick in the Hawkeyes 8-0 win over Ball State on Oct. 30. Hemeon, who has been selected to compete in the 2014 NFHCA Division I Senior Game, was also named NFHCA West Region All-America last season and earned Big Ten All-Tournament team honors.
The 15th-ranked Hawkeyes have earned the No. 6 seed in the 2014 Big Ten Tournament. Iowa (11-6, 4-4) will face No. 10 and third-seeded Northwestern (13-6, 6-2) on Thursday at 4:30 p.m. (CT), in Ann Arbor, Michigan. The winner of Thursday's contest advances to face Michigan/Rutgers in the second semifinal Friday at 2:45 p.m.