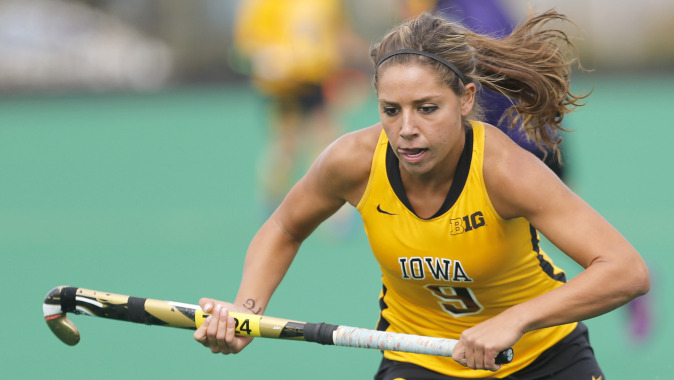 Nov. 5, 2014
IOWA CITY, Iowa — The 15th-ranked University of Iowa field hockey program earned a 4-0 win over No. 4 Penn State on Oct. 25 at Grant Field. When UI junior Natalie Cafone netted a goal in the 25th minute, she wasn't only giving the Hawkeyes a 2-0 lead over the Nittany Lions — she also emerged into the program's all-time top-10 scoring list with her 48th career goal.
"She's already rewriting some of the record books here, and for her to break into the top-10 scoring list as a junior is pretty unbelievable," said UI head coach Lisa Cellucci. "She is a phenomenal athlete with world class speed, great skill, and is a downright competitor which really sets her apart from everyone else. I just want her to keep scoring goals and help the team. I think that's what she's most worried about too."
Cafone — who leads the team with 18 goals this season — has plenty of familiarity with the company she joined among the top-10 list. The Fairfield, New Jersey, native ranks 10th beside her former high school coach Diane DeMiro Simmons, who tallied 48 goals from 1993-96. Simmons spent four years working with Cafone as a prep in high school and saw the potential early in her career.
"I saw the talent in Natalie when she was in high school," said Simmons. "She had a natural gift unlike any other player that we had ever coached, and she possessed a true athletic ability. She was a three-sport athlete and lettered all four years in each of those sports. After coming to Iowa and playing at the top level, while continuing to improve to the extent that she has, it's clear she has the complete game now."
Simmons played a key role in Cafone's decision to attend Iowa. Having played alongside coach Cellucci, the two former Hawkeyes were able to give Cafone a better feel about what a career at Iowa would envision. Simmons and Cafone have continued to hold a strong connection over the years and the two still communicate on a weekly basis.
"It has been such an honor watching and following Natalie's career at Iowa," said Simmons. "Having played here, it was close to the heart for me. I was thrilled when I heard Natalie had decided to become a Hawkeye and her career has completely taken off.
"She was without a doubt the best field hockey player to come through our program at West Essex High School and to see her continuing to progress at this level is amazing. I think she could be one of the best players in the country."
Building on the success achieved as a sophomore, the 2013 NCAA statistical points champion continues to thrive on the field in 2014. Cafone remains a top statistical leader in points per game ranking sixth nationally (2.47), and fourth nationally in goals per game (1.06). With the remainder of the 2014 season, and a senior campaign in 2015, the possibilities for Cafone are endless.
The 15th-ranked University of Iowa field hockey team has earned the No. 6 seed in the 2014 Big Ten Tournament. Iowa (11-6, 4-4) will face No. 10 and third-seeded Northwestern (13-6, 6-2) on Thursday at 4:30 p.m. (CT), in Ann Arbor, Michigan. The winner of Thursday's contest advances to face Michigan/Rutgers in the second semifinal Friday at 2:45 p.m.