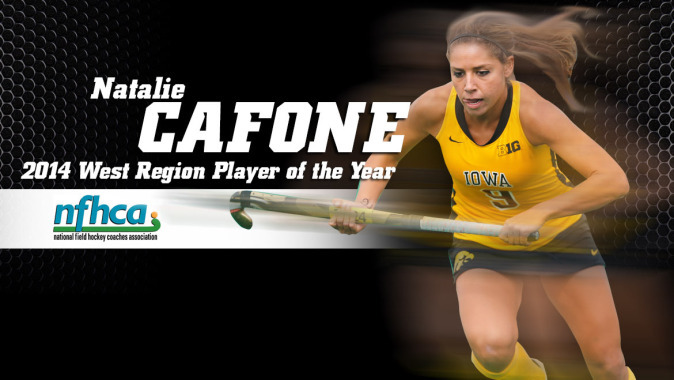 Nov. 18, 2014
IOWA CITY, Iowa — University of Iowa field hockey junior Natalie Cafone has been named the 2014 National Field Hockey Coaches Association's West Region Player of the Year, the NFHCA announced Tuesday.
"We are thrilled for Natalie," said UI head coach Lisa Cellucci. "This is an outstanding accomplishment and further exemplifies the skill, competitive attitude, and determination that she brings to the field every day."
Cafone started all 18 contests as a junior pacing an Iowa offensive attack that ranked ninth nationally, averaging over three goals per game. The Fairfield, New Jersey, native was named Big Ten Offensive Player of the Year after leading the league, and ranking fourth nationally in goals per game (1.00) and seventh nationally in points per game (2.33). Cafone climbed on the program's all-time top-10 goals list on Oct. 25, scoring her 48th career goal in Iowa's 4-0 win over No. 4 Penn State. Cafone capped her junior campaign scoring 42 points on 18 goals and six assists.
The 2014 NFHCA Division I All-American teams will be announced on Dec. 1st.