Nov. 19, 2014
Match Notes in PDF Format

| IC Duals Parking Information

ON THE MAT
The University of Iowa wrestling team opens its 2014-15 home schedule Friday hosting the seventh annual Iowa City Duals. Beginning at 9 a.m., Iowa will host consecutive duals against Baker University (9 a.m.), Iowa Central (10:30 a.m.), and Cornell College (12 p.m.) on Mediacom Mat inside Carver-Hawkeye Arena. Times are subject to change. Admission is $12 for adults, $8 for youth, and free for kids five-years old and younger.
IOWA CITY DUALS
This season marks the seventh year of the Iowa City Duals. The Hawkeyes are 19-0 in the history of the duals, and Iowa wrestlers own a 183-7 record in the event. Iowa Central is making its sixth appearance in the duals. Cornell is making its fifth appearance and Baker is making its third. All three schools competed at the event last season.
IOWA CITY DUALS OPPONENTS
The Hawkeyes have a combined record of 15-3 against Friday's opponents. Iowa is 2-0 all-time against Baker. The Hawkeyes defeated the Wildcats, 47-3, in 2011, and, 59-0, in 2013. Iowa owns a 7-3 series advantage over Cornell. The Hawkeyes lost the first three meetings of the series beginning in 1930. The Rams scored consecutive victories in 1930 (17-13), 1932 (15.5-10.5) and 1933 (17-11). Iowa won its first series meeting, 22-11, in 1970. The Hawkeyes have since run their series win streak to seven with victories in 2007 (51-0), 2009 (57-0), 2010 (43-0), 2011 (42-0), 2012 (49-3), and 2013 (50-3). The Hawkeyes own a 6-0 series advantage against Iowa Central. The Hawkeyes won the first series meeting, 49-0, in 2000, and own wins in 2007 (50-0), 2008 (52-0), 2010 (45-0), 2011 (37-6), and 2013 (55-0).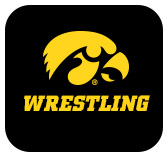 38 FALLS AT LUTHER OPEN
Twenty-eight Hawkeyes combined for 38 falls at the season-opening Luther Open on Nov. 15. Cory Clark led all Hawkeyes, pinning each of his four opponents en route to the 133-pound title. Bobby Telford, Brandon Sorensen, and Alex Meyer recorded three pins apiece. Telford pinned each of his three opponents to win at 285. Meyer used three falls and a technical fall to place second at 174, and Sorensen recorded two major decisions and three falls to place third at 157. Iowa swept 10 weight classes in the Elite Division and earned a pair of titles in the Silver Division. Iowa Elite champions included Thomas Gilman (125), Cory Clark (133), Josh Dziewa (141), Brody Grothus (149), Michael Kelly (157), Nick Moore (165), Mike Evans (174), Sammy Brooks 184), Nathan Burak (197) and Bobby Telford (285). Logan Ryan (141) and Sam Stoll (285) both won titles in the Silver Division. Ryan defeated teammate Seth Gross, 2-1, in the first tiebreak period to win at 141. Stoll used four first-period pins to win at 285. He is 8-2 this season with seven wins by fall.
CLARK SETTLES IN AT 133
Sophomore Cory Clark was 4-0 with four pins in his 133-pound debut at the Luther Open. He pinned all four opponents in a combined 13 minutes and 19 seconds. Clark placed fifth at the 2014 NCAA Championships at 125 pounds, but committed to the move to 133 over the summer. Clark is 5-0 all-time at Carver-Hawkeye Arena.
GROTHUS FIRST TO EMERGE AT 149
Junior Brody Grothus was 5-0 with a pair of pins at the Luther Open on Nov. 15. He pinned his first two opponents before defeating teammate Brandon Sorensen, 3-2, in the semifinals. He then won the 149-pound title with a 9-6 win in the finals over teammate Edwin Cooper. Grothus advanced to the 2014 NCAA Championships at 149, ending Iowa's three-year postseason drought at the national tournament. He was 24-12 overall last year, including wins over the top four finishers at the NCAA tournament. Sorensen is now 1-1 all-time against Grothus. He defeated Grothus in the consolation finals of the Midlands tournament and was 24-4 last season competing unattached. He split the season between 149 and 157, opening with a 10-3 record at 157 before finishing the season 14-1 at 149. Cooper won a national title for Iowa Central in 2012 at 149 pounds. He did not compete in 2013, and placed runner-up at the 2014 Division II NCAA Championships. He has never faced Sorensen, and is 0-1 all-time against Grothus.
MEYER, KLAPPRODT SHOW DEPTH
Sophomore Alex Meyer and junior Kris Klapprodt each placed runner-up at the Luther Open behind a couple of Iowa All-Americans. Meyer pinned three opponents and recorded a technical fall before losing, 6-0, to Evans in the 174-pound finals. He was 2-0 in Big Ten duals last season and placed seventh at Midlands. Klapprodt took Burak to overtime in the finals at 197, but fell, 3-1, in the first sudden victory period. He was 15-2 at 197 pounds last season, recording five pins and three major decisions.
KELLY RETURNS TO 157
Senior Michael Kelly was 5-0 with a pair of pins in his return to 157 pounds at the Luther Open. Kelly has a 28-3 career mark at 157, including an 18-1 record competing unattached in 2010-11. He as 5-1 as a redshirt freshman, and wrestled his entire sophomore campaign at 149. He wrestled at 157 one time last year, falling to Indiana's sixth-ranked Taylor Walsh. The veteran has 32 career dual starts under his belt, the fourth most on the team.
THE ATTENDANCE GAME
In 2013-14, the University of Iowa wrestling program led the nation in attendance for the eighth consecutive season according to the annual Division I attendance report released March 4 by Roby Publishing. Iowa averaged 8,835 fans in seven duals, setting an NCAA single season attendance record of 61,843. The Hawkeyes averaged at least 8,000 fans for the sixth consecutive season, and own the three highest single season averages in NCAA history (9,014 in 2012; 8,764 in 2013). In 2013-14, Iowa became the first school in NCAA history to host three duals with more than 10,000 fans — Penn State (13,747), Minnesota (10,588), and Oklahoma State (10,141). When considering the Iowa City Duals — which Iowa hosted Nov. 22 against Baker, Cornell College, and Iowa Central — a school record 67,556 fans attended wrestling meets inside Carver-Hawkeye Arena.
NCAA EXPERIENCE
The Hawkeyes return seven wrestlers with NCAA Championships experience. Seniors Mike Evans (174) and Bobby Telford (285) are three-time NCAA qualifiers. Telford earned All-America honors in 2012 and 2014, while Evans earned All-America honors in 2013 and 2014. Junior Nathan Burak (197) and sophomore Cory Clark (125) also advanced to the All-America stand in 2014. Burak was making his second NCAA tournament appearance, while Clark was making his first. Senior Nick Moore (165) has competed in two NCAA Championships (2013, 2014), and last year senior Josh Dziewa (141) and junior Brody Grothus (149), made their first career appearances.
TICKET INFORMATION
Season and single dual tickets are now available for purchase on hawkeyesports.com. Season tickets for eight home dates are available for $95. UI students and kids five-years old and younger are admitted free to all wrestling events. Single dual tickets tickets are $12 for the Iowa City Duals (Nov. 21), and duals against Michigan State (Dec. 6), Illinois (Jan. 16), Northwestern (Jan. 23), and Michigan (Feb. 13). Adult tickets are $15 for Iowa State (Nov. 29) and Virginia (Feb. 15) — Iowa's opening round opponent of the Cliff Keen National Duals. Youth tickets (18 and younger) are $8 for single duals. Tickets to the second round of the Cliff Keen National Duals (Feb. 22) — featuring eight teams and three rounds of competition — are $20 for all ages.
HAWKEYE WRESTLING HISTORY
Iowa's overall dual meet record is 941-224-31 (.799) in 104 seasons. The Hawkeyes have won 23 national titles and 34 Big Ten titles. Iowa's 53 NCAA Champions have won a total of 81 NCAA individual titles, crowning six three-time and 16 two-time champions. The Hawkeyes' 110 Big Ten champions have combined for 191 conference titles. There have been seven four-time, 18 three-time, and 29 two-time Iowa winners. Iowa's 150 All-Americans have earned All-America status 307 times, including 18 four-time, 32 three-time and 39 two-time honorees.
ALL-AMERICAN STREAK
Iowa returns four All-Americans this year — Cory Clark (125), Mike Evans (174), Nathan Burak (197), and Bobby Telford (285). The Hawkeyes have crowned at least one All-American every year since 1972, a span of 43 seasons. Iowa has totaled 261 All-America honors during that stretch. The Hawkeyes crowned six All-Americans in 2014, including four-time All-American Derek St. John (157) and first-timers Clark (125) and Burak (197). Tony Ramos earned his third career All-America honor, winning the 133-pound bracket, and Evans (174) and Telford (285) were both named All-Americans for the second time in their careers.
40 YEARS SINCE NO. 1
Gary Kurdelmeier led Iowa to its first NCAA Championship in 1974, and in the 41 years since, the Hawkeyes have accumulated 23 team titles, more than any other school — Oklahoma State (7), Penn State (4), Minnesota (3), Iowa State (2), Arizona State (1) and Oklahoma (1).
CARVER-HAWKEYE ARENA
Iowa was 8-2 inside Carver-Hawkeye Arena in 2013-14 and owns a 213-21 all-time record since becoming the home to Iowa wrestling in 1983. The Hawkeyes have recorded 20 undefeated season in Carver-Hawkeye Arena, the most recent in 2012-13 (9-0). Carver-Hawkeye Arena has hosted three Big Ten Championships (1983, 1994, 2005) and four NCAA Championships (1986, 1991, 1995, 2001). The Hawkeyes have won five tournament titles on their home mat, including the 1983 and 1994 Big Ten Championships, and the 1986, 1991 and 1995 NCAA Championships. On February 22, 2015, Carver-Hawkeye Arena will host the National Duals for the third time (1998, 1999).
HAWKEYES WIN BIG TEN DUAL TITLE
Iowa won a share of the Big Ten regular season dual title when it defeated Wisconsin, 28-10, on Feb. 23. The Hawkeyes finished the dual season with a 7-1 conference record, sharing the regular season title with Minnesota (7-1) and Penn State (7-1). Iowa has won or shared six of the last seven Big Ten regular season titles.