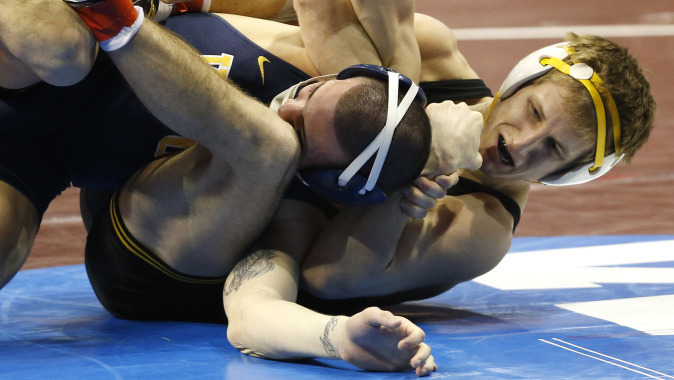 Nov. 20, 2014
Editor's Note: The following first appeared in the University of Iowa's Hawk Talk Daily, an e-newsletter that offers a daily look at the Iowa Hawkeyes, delivered free each morning to thousands of fans of the Hawkeyes worldwide.
IOWA CITY, Iowa — There were few surprises, yet probably even fewer questions answered, when the University of Iowa wrestling team opened the season last weekend at the Luther Open. The Hawkeyes — ranked No. 1 in the USA Today/NWCA Coaches poll — did the expected and swept 10 weight classes for the second year in a row.
Cory Clark settled into his new position with four pins at 133. Bobby Telford pinned his way through the 285-pound bracket for the second straight year, and fellow All-Americans Mike Evans and Nathan Burak combined for six bonus-point wins.
From a big picture perspective the results were a perfect 10-for-10. But from the inside looking out, the grades are still a work in progress.
"There are some things that are a little bit close there that you don't want to have," UI head coach Tom Brands said about the season opener, "but you know what, we dug ourselves out of some holes, too. We're moving forward."
Iowa continues its forward march Friday hosting the Iowa City Duals. Individually, the Hawkeyes are 183-7 in the six-year history of the event. The match-ups leave little room for surprise, unless you're predicting the participants rather than the outcome.
Who will take the mat at 149? Who will wrestle at 157? What will they do when they get there?
Brands said those answers are yet to be determined.
"We need to know pretty quick moving forward," said Brands. "We have an idea, but we're not settled."
Grothus emerged as the 149-pound front-runner at Luther. The returning NCAA qualifier defeated Brandon Sorensen in the semifinals and Edwin Cooper, Jr., in the finals. The win over Sorensen avenged a loss from the 2013 Midlands. His meeting with Cooper was a first.
All three have the ability to make a name for themselves at 149, and it's possible at least one could test the market at 157, a spot currently staked out by senior Mike Kelly, who is 28-3 all-time at 157.
"Mike Kelly right now is the guy there," said Brands. "We'll see how it goes. I know that we have a lot of options there that we feel good about at both weights."
Iowa could use any variation of the four on Friday, but eventually Brands would like to see the logjam resolve itself.
"We have good options there, and it is really early to answer those questions. But if you're one of those guys you can answer them real easily, and that's by performance and a wide gap in your scores.
"There has got to be action. We have some tough guys and we just have to prove it more… three to four deep at every weight."
Iowa opens the Iowa City duals hosting Baker University at 9 a.m. (CT). Duals against Iowa Central and Cornell College follow at 10:30 a.m. and 12 p.m.
Following the Iowa City Duals, a select group of Hawkeyes travel to St. Charles, Missouri, to compete at the Lindenwood Open.