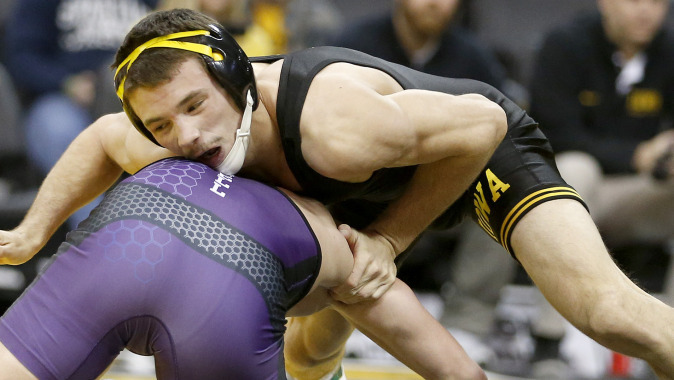 Nov. 29, 2014
IOWA CITY, Iowa — The National Wrestling Coaches Association announced Saturday an agreement with the Big Ten Network to televise the Cliff Keen National Duals Tournament in Iowa City, Iowa, on Feb. 21-22.
Originally scheduled as a two-day event on Feb. 15 (regionals) and Feb. 22 (championship quarterfinals, semifinals, and finals), the tournament has expanded to three days to include live television coverage of semifinal and final round competition at Carver-Hawkeye Arena on Feb. 21-22. Regional rounds will be contested at host schools on Feb. 15.
BTN will televise the semifinals Saturday, Feb. 21, at 3 p.m. (CT), and the finals Sunday, Feb. 22, at 11:30 a.m. (CT).
"We are extremely excited that the Big Ten Network has provided an opportunity for the very best student-athletes in our sport to participate in dual event in front of a national audience," said Mike Moyer, executive director of the NWCA. "The University of Iowa values wrestling as much as any institution in the country, and I'm certain we will work together to showcase an event that entertains fans at both the local and national level."
Quarterfinals begin Saturday, Feb. 21, at 12 p.m. (CT) at Carver-Hawkeye Arena. Eight teams qualify for the quarterfinals following regional competition on Feb. 15. Iowa hosts Virginia in one of the regional rounds on Feb. 15 at 1 p.m. (CT).
Tickets are $10 for Saturday, Feb. 21 (quarterfinals and semifinals), and $20 for Sunday, Feb. 22 (finals and consolation finals). Prices are for all ages, and everyone needs a ticket for entry.
The entire three-day event is included in the University of Iowa wrestling season ticket package ($95). Fans who have already purchased tickets for the originally scheduled finals date (Feb. 22) will be mailed an additional ticket, with the same seat assignment, for the quarterfinal and semifinal sessions (Feb. 21) at no additional charge.
CLIFF KEEN NATIONAL DUALS TOURNAMENT SCHEDULE
Sunday, Feb. 15
Virginia at Iowa Regionals
Kent State at Illinois Regionals
Minnesota at N. Dakota St. Regionals
Ohio St. at Edinboro Regionals
Drexell at Cornell Regionals
George Mason at Lehigh Regionals
Oklahoma at UTC Regionals
American at Missouri Regionals
Saturday, Feb. 21
12 p.m. (CT) Quarterfinals
3 p.m. (CT) Semifinals (BTN)
Sunday, Feb. 22
11:30 a.m. (CT) Final Round (BTN)
11:30 a.m. (CT) Consolation Finals