Dec. 2, 2014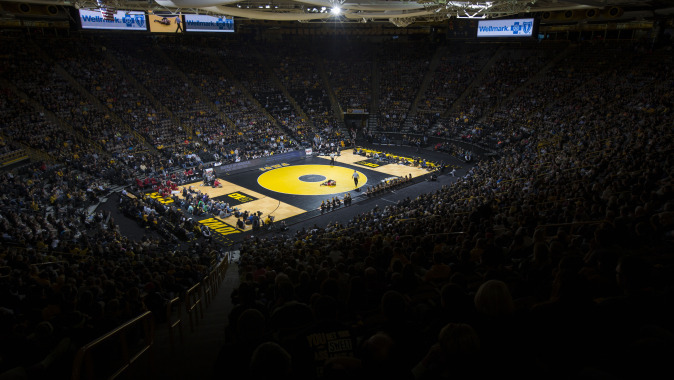 Dec. 2, 2014
IOWA CITY, Iowa — The Big Ten Network has announced that the top-ranked University of Iowa wrestling team will make seven appearances on BTN this season, including a pair of dates hosting the Cliff Keen National Duals.
Iowa's regular season duals at Rutgers, Minnesota, and Penn State will air live on BTN.
The Hawkeyes wrestle at Rutgers on Jan. 2 at 7 p.m. (CT), at Minnesota on Jan. 30 at 6 p.m. (CT), and at Penn State on Feb. 8 at 12 p.m. (CT).
BTN will televise the semifinal and final rounds of the Cliff Keen National Duals, hosted by the University of Iowa on Feb. 21-22. The tournament expanded from a two-day event to a three-day event with the addition of television. Iowa hosts Virginia on Feb. 15 in the opening round of 16. Eight teams advance to the quarterfinals Feb. 21 at Carver-Hawkeye Arena. The semifinals will air Saturday on BTN at 3 p.m. (CT). The finals will be televised Sunday at 11:30 a.m. (CT).
BTN is televising the final round of the Midlands Championship on Dec. 30 at 7 p.m. (CT), and final round of the Big Ten Championships on March 8, 2015, at 2 p.m. (CT). The 2015 conference tournament is hosted by Ohio State.
BTN will also stream a record 51 wrestling events on BTN Plus. A large number of those streamed events will also be televised on delay as part of BTN's Student U initiative. Iowa's home duals against Northwestern and Michigan will be available on BTN Plus.
Iowa's home dual against Illinois will be televised statewide on Mediacom Connections (MC22).
Details regarding ESPN's coverage of the NCAA Championships will be announced at a later date.
| Date | Event | Netork | Time (CT) |
| --- | --- | --- | --- |
| Dec. 30 | at Midlands | BTN | TBD |
| Jan. 2 | at Rutgers | BTN | 7 p.m. |
| Jan. 16 | Illinois | Mediacom | 7 p.m. |
| Jan. 23 | Northwestern | BTN Plus | 7 p.m. |
| Jan. 30 | at Minnesota | BTN | 6 p.m. |
| Feb. 8 | at Penn State | BTN | 12 p.m. |
| Feb. 13 | Michigan | BTN Plus | 6 p.m. |
| Feb. 21 | Cliff Keen National Dual Tournament | BTN | 3 p.m. |
| Feb. 22 | Cliff Keen National Dual Tournament | BTN | 11:30 a.m. |
| March 8 | at Big Ten Championships | BTN | 2 p.m. |
| March 19 | at NCAA Championships | ESPN Networks | ALL DAY |
| March 20 | at NCAA Championships | ESPN Networks | ALL DAY |
| March 21 | at NCAA Championships | ESPN Networks | ALL DAY |