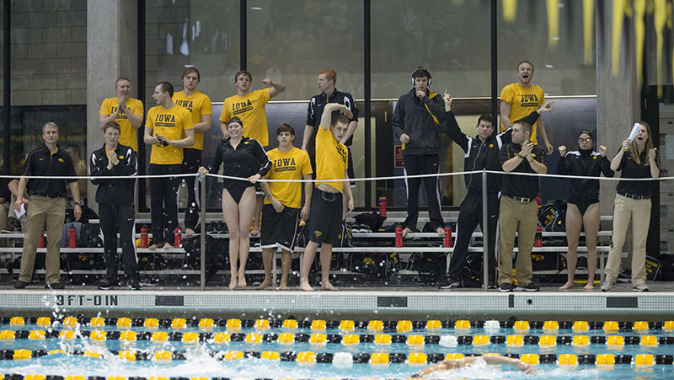 Dec. 10, 2014
Complete Notes

This Week
The University of Iowa women's swimming and diving team hosts Iowa State in the annual Iowa Corn Cy-Hawk Series Friday, Dec. 12, at the Campus Recreations and Wellness Center Natatorium at 6 p.m. (CT).
Live Results
Fans can follow this week's action via live results at: www.hawkeyesports.com/livestats/c-swim/, and on the "Meet Mobile" swim meet application on cell phones and tablets. Download the application at this link: http://www.active.com/mobile/meet-mobile-app.
Promotions
Friday's competition will be a "Black Out" where fans are encouraged to wear black to the CRWC. Free shirts will be given away to the first 50 fans. Admission is free to all ages.
Brands vs. Brands
UI wrestling coaches Tom and Terry Brands square off in 50 yard freestyle competition when Iowa hosts Iowa State at 6 p.m. (CT) in the annual Iowa Corn Cy-Hawk series.
Looking Ahead
The Hawkeyes return to action on Saturday, Jan. 3, at the St. Petersburg Invite in St. Petersburg, Florida.
Scouting the Field
Head coach Duane Sorenson enters his 18th season at the helm of the Iowa State program. The Cyclones (5-1, 1-0 Big 12) finished third in the Big 12 a season ago and return a veteran lineup comprised of eight seniors and seven juniors. The Cyclones most recent competition came on Nov. 23, swimming to a runner-up finish at the Kansas Classic with 1,093 points.
Iowa Corn Cy-Hawk Series
The Hawkeyes have won 8-of-10 against the Cyclones, including the last four duals.
Quick-Cap Hawkeye Invite
Iowa clinched the three-day Hawkeye Invitational Dec. 7, at the Campus Recreation and Wellness Center Natatorium. The Hawkeyes registered 1,015.5 points — outperforming second-place Denver (793), Washington State (628.5), UW-Wisconsin (390), Notre Dame (155), Nebraska (71), and Iowa State (40).
Record-Breaking Weekend
Five school records fell at the three-day Hawkeye Invite from Dec. 5-7, in the CRWC Natatorium. Dec. 5: Olivia Kabacinski, Emma Sougstad, Meghan Lavelle, Mekenna Scheitlin, 200-yard freestyle relay (1:31.30). Dec. 5: Emma Sougstad, 200 IM (2:00.94). Dec. 6: Emma Sougstad, 100-yard breaststroke (1:00.41). Dec. 6: Olivia Kabacinski, 200-yard freestyle (1:46.68). Dec. 7: Olivia Kabacinski, 100-yard freestyle (49.61).
Kabacinski Sprinting To The Top
Junior Olivia Kabacinski remains a top sprinter for the Hawkeyes this season.Kabacinski leads the team in the 50 free (22.80), 100 free (49.61), and 200 free (1:46.68). She has posted NCAA "B" qualifying times in all three events.
STOUGHTON LEADING THE WAY
Senior Becky Stoughton is off to a fast start in 2014 pacing the Hawkeyes in six events. The Peoria, Illinois, native owns top times in the 500 free (4:47.40), 1,000 free (9:49.51), 1,650 free (16:21.97), 200 fly (2:01.46), 400 IM (4:18.32) and as a member of the 800 free relay (7:17.78).
Swimming To The Postseason
Four Hawkeyes have swam to 10 NCAA `B' cut times. Kabacinski in the 50 (22.80), 100 (49.61), and 200 (1:46.68) freestyle. Stoughton in the 500 (4:47.40) and 1,650 freestyle (16:21.97) and the 400 IM (4:18.32). Hauber in the 100 backstroke (54.94), and Sougstad in the 100 (1:00.41) and 200 breaststroke (2:12.40) and 200 IM (2:00.94).
Diving To the Postseason
Redshirt seniors Lauren Kelba and Joelle Christy have posted NCAA Zone Diving standards on both the 1 and 3-meter this year. Christy leads the way on both the 1 (304.65) and 3-meter (306.38). Kelba posted a 281.10 on the 1-meter.
Newcomers Stepping Up
Five freshmen have made an immediate impact in 2014-15. Rowan Hauber has posted Iowa's top times in the 100 back (54.94) and 200 back (1:59.68). Four newcomers also rank second on the team's top times list. Carly O'Brien is second in the 100 free (51.06), Meghan Lavelle in the 100 back (55.40) and 200 back (2:00.71), Summer Campbell in the 100 fly (55.75), and Tereysa Lehnertz in the 200 fly (2:02.37). All five relay events include at least one newcomer as a member of the quartet.
Sougstad: B1G Swimmer Of The Week
UI sophomore Emma Sougstad was been named the Big Ten Swimmer of the Week on Nov. 4. Sougstad earned the accolade after posting a pair of NCAA `B' cut times in the dual against Minnesota on Oct. 31.
Sougstad World Ranked
UI sophomore Emma Sougstad has earned a spot among the top 50-ranked swimmers in the world following competition at the 2014 Summer Nationals in Irvine, California. Sougstad placed 19th in 50-meter breaststroke competition at the Phillips 66 National Championships.
Freeman Earns Silver at Fina Grand Prix
Former Hawkeye and UI assistant coach Deidre Freeman dove to a third-place finish Oct. 26 in 3-meter synchronized diving competition at the FINA Grand Prix in Kuala Lumpur, Malaysia. The Grinnell, Iowa, native dove alongside former University of Texas standout Maren Taylor. The duo dove to a score of 259.80 — earning a third-place finish behind two teams from Malaysia.
Freeman Joins Staff
Former Hawkeye Deidre Freeman joins the UI staff as a volunteer assistant coach. Freeman, a 2011 graduate will work primarily with divers. Freeman owns best scores on the one-meter (338.55) and three-meter (407.40) rank first in school history.
Family Ties
While most programs cite family team atmospheres, it goes a little bit further for the University of Iowa swimming and diving team. Iowa has two Weigands on the current squad in junior Hillary Weigand and sophomore Jennifer Weigand.
Record Breaking Year
The Hawkeyes come into this season after breaking eight school records throughout the course of last season. Individually, Olivia Kabacinski (50 free – 22.70, 100 free – 49.84), Emma Sougstad (100 breaststroke – 1:00.90), and Haley Gordon (400 fly – 54.58) all broke school recrods in their respective event. The team of Lindsay Seemann, Sougstad, Abbey Tuchscherer, and Elise Bora set the record in the 200 medley relay (1:40.12). The team of Seemann, Sougstad, Gordon, and Olivia Kabacinski swam to a record in the 400 medley relay (3:39.54). Kabacinski, Borja, Emily Hovren, and Seeman set the record in the 400 free (3:21.07). The team of Kabacinski, Hovren, Becky Stoughton, and Seemann set the record in the 800 free (7:12.49).
2013-2014 MVP
Olivia Kabacinski returns to the Hawkeye roster after earning the team's Most Valuable Player award as a sophomore. Kabacinski is the UI school record-holder in the 50 free (22.70), 100 free (49.84), as a member of the 400-medley relay (3:39.54), and as a member of the 800-freestyle (7:12.49).
Championship Season
Six Hawkeyes competed in the Phillips 66 National Championships this past summer in Irvine, Calif. Senior Grant Betulius, juniors Mike Nelson, Brian Donatelli and Colleen Champa, and sophomores Kyle Patnode and Emma Sougstad each took part in competition. Sougstad earned a 16th place finish in the 100 breaststroke in the final day of competition.
Academic Honors
Eleven members from the 2013-14 women's team were honored by the Big Ten Conference with the Distinguished Scholar Award. The team was acknowledged as an All-America team for the 10th consecutive year. In all, 35 women have been named to the CSCAA Scholar All-America list during coach Long's tenure.
Head Coach Marc Long
Marc Long is in his 11th season as head coach for the University of Iowa swimming team. It's his 10th as head coach of the combined program. During his tenure as head coach of both programs, 86 school records have fallen and 112 Hawkeyes have provisionally qualified for the NCAA Championships.
Campus Recreation and Wellness Center
Ground was broken for the Campus Recreation and Wellness Center in October 2007. The facility opened in August 2010 and is home for the Hawkeyes. It is located at the corner of Burlington and Madison streets and cost approximately $69 million. The facility includes a 50-meter competition pool, a separate diving well, a leisure pool with lap lanes and 24,000 square feet of fitness space.
Iowa Swimming and Diving Tradition
Iowa was one of the first schools in the nation to compete on a collegiate level and competed at the first NCAA Championship. From 1937 to 1960, Iowa placed in the NCAA top 10 18 times, crowning nine NCAA and 22 Big Ten champions.
Follow the Hawkeyes
Become fans of the official Iowa Swimming and Diving fan page by going to facebook.com/IowaSwimmingandDiving to follow the Hawkeyes on Facebook. Fans can also follow on Twitter: @IowaHawkeyeSwim