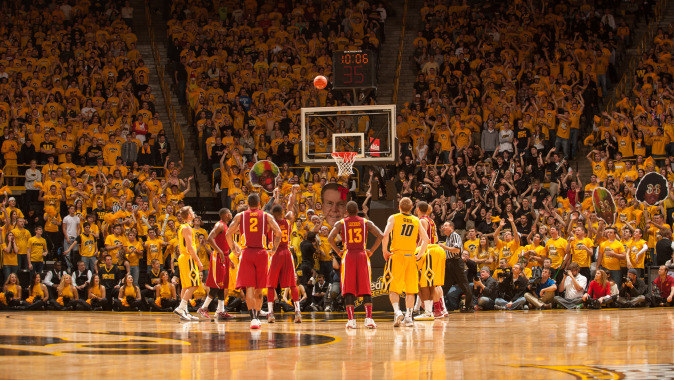 Dec. 12, 2014
By JAMES ALLAN
hawkeyesports.com
IOWA CITY, Iowa — A Blackout. A sold-out Carver-Hawkeye Arena. An Iowa Corn Cy-Hawk Series match-up against No. 13 Iowa State on Mediacom Court.
It all equates to a special night in Iowa City.
"This is a great rivalry," said University of Iowa senior Aaron White. "The fans get into it and it's big for both schools and both fan bases."
The Iowa-Iowa State showdown will be the marquee game on tonight's college basketball slate with it being one of four games being played across the country.
"Whether the game is at Hilton (Coliseum) or in Iowa City, the atmosphere is electric," he said. "I am excited that my last Iowa-Iowa State game will be in Carver-Hawkeye Arena… I know the fans will be rocking."
Iowa has won four of the last five meetings in Carver-Hawkeye Arena dating back to 2004 and lead the series 43-24 overall and 27-6 in games played in Iowa City.
The Hawkeyes, who are 8-2 overall, bring a six-game winning streak and a 31-game home nonconference winning streak into tonight's game. Iowa State is 6-1 with its lone defeat coming against Maryland on Nov. 24 in a neutral site game in the CBE Hall of Fame Classic.
In a game where the offensive tempos are going to be in overdrive, White says the outcome could come down to the defensive execution.
"We'll have to dig in on defense and guard their stuff," said White of a Cyclone team that averages 83.6 points per game — 16th-best nationally. "Our defense has been rock solid, but the system (ISU) coach (Fred) Hoiberg runs involves a lot of isolation and is NBA-like in getting guys where he wants them.
"They have guys that can put the ball in the hole. It's going to have to be a locked in defensive game for us… five as one. That's what it is going to take for us to win."
Through 10 games, the Hawkeyes' defense has been its calling card. Iowa has held its last four opponents below 50 points and its last five opponents below a 33 percent field goal percentage. The team's 33.7 field goal percentage defense is seventh-best nationally.
Tonight's game will tip-off at 7:06 p.m. (CT), and it will be televised on BTN with Kevin Kugler and Shon Morris on the call. Fans are encouraged to allow extra time to get to their seats and arrive to the game early.