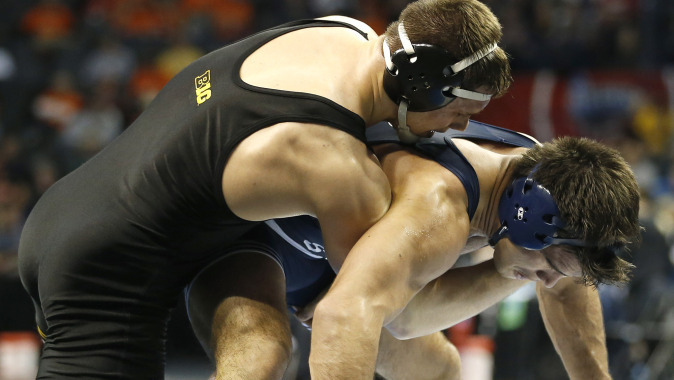 Dec. 24, 2014
IOWA CITY, Iowa — Senior Mike Evans and junior Nathan Burak were ranked No. 1 at their respective weights when the 52nd annual Midlands Championships pre-seeds where announced Wednesday. Iowa is represented in all 10 weight classes, and has two wrestlers pre-seeded at 149 and 157, and three at 174 pounds.
Evans, the defending champion at 174, is the top pre-seed for the second straight year. Burak placed third last season at 197. He is wrestling unattached this year.
Thomas Gilman, the defending Midlands champion at 125, is the No. 2 seed behind Illinois' Jesse Delgado, the two-time defending NCAA champion. Cory Clark is seeded second at 133, and Bobby Telford, a Midlands runner-up in 2011 and 2013, is the No. 2 seed at 285.
Iowa has a top-five seed at every weight class. Brody Grothus (149), Nick Moore (165), and Sammy Brooks (184) are seeded third at their respective weights. Josh Dziewa is seeded fourth at 141, and Michael Kelly is fifth at 157.
Brandon Sorensen placed third last season and is seeded No. 8 at 149. Edwin Cooper is the No. 9 seed at 157, and Alex Meyer, a seventh-place finisher in 2013, is seeded sixth at 174. Freshman Burke Paddock is the No. 9 seed at 174.
Northwestern head coach Drew Pariano and tournament director Tim Cysewski announced the pre-seeds. The list is subject to change before final brackets are released Dec. 28. Northwestern hosts the annual event inside Welsh Ryan Arena on Dec. 29-30.
125
1 Jesse Delgado, Illinois
2. Thomas Gilman, Iowa
3. Joey Dance, Virginia Tech
4. Darian Cruz, Lehigh (Unattached)
5. Josh Martinez, Air Force
6. Josh Rodriguez, North Dakota State
7. Brandon Jeske, Old Dominion
8. Kory Mines, Edinboro
9. Shayne Wireman, Eastern Michigan
10. Barlow McGee, Missouri (Unattached)
11. Stevan Micic, Northwestern (Unattached)
12. Ryak Finch, Grand View
Lucas Malmberg, Messiah College
133
1. AJ Schopp, Edinboro
2. Cory Clark, Iowa
3. Jarrod Garnett, Lehigh Valley Athletic Club
4. Mason Beckman, Lehigh
5. Zane Richards, Illinois
6. Geoffrey Alexander, Maryland
7. Ryan Taylor, Wisconsin
8. Danny Sabatello, Purdue
9. Kevin Norstrem, Virginia Tech
10. Robert Deutsch, Rider
11. Caleb Richardson, Penn
12. Ian Nickell, CSU Bakersfield
Tyler Clark (Unattached)
Dominick Malone, Northwestern
Josh Alber, Northern Iowa (Unattached)
141
1. Mitchell Port, Edinboro
2. Devin Carter, Virginia Tech
3. Richard Durso, Franklin & Marshall (Unattached)
4. Josh Dziewa, Iowa
5. Chris Mecate, Old Dominion
6. Todd Preston, Harvard
7. Shyheim Brown, Maryland
8. Mitch Bengsten, North Dakota State
9. Stephen Rodriquez, Illinois
10. Alex Kocer, South Dakota State
11. Joey McKenna, Lehigh Valley Athletic Club
12. Brandon Wright, Grand View
Jesse Thielke, Wisconsin
Nick Lawrence, Purdue
Jordan Laster, Princeton
Chuck Zeisloft, Rider
Jameson Oster, Northwestern
Alfred Bannister, Maryland
149
1. Jason Tsirtsis, Northwestern
2. David Habat, Edinboro
3. Brody Grothus, Iowa
4. Lenny Richardson, Old Dominion
5. Adam Krop, Princeton
6. CJ Cobb, Penn
7. BJ Clagon, Rider
8. Brandon Sorensen, Iowa
9. Laike Gardner, Lehigh (Unattached)
10. Ryan Lubeck, Wisconsin
11. Sal Mastriani, Virginia Tech
12. Kyle Langenderfer, Illinois
Kevin Birmingham, Davidson
Nick Barber, Eastern Michigan
Gustavo Martinez, Grand View
157
1. Isaiah Martinez, Illinois
2. Cody Pack, South Dakota State
3. Markus Scheidel, Columbia
4. Justin Staudenmayer, Brown
5. Michael Kelly, Iowa
6. Chad Welsh, Rider
7. Brandon Zeerip, Eastern Michigan
8. Doug Welch, Purdue
9. Edwin Cooper, Iowa
10. Andrew Morse, Northern Illinois
11/12. TBD based on entries
165
1. Isaac Jordan, Wisconsin
2. Taylor Walsh, Indiana
3. Nick Moore, Iowa
4. Pierce Harger, Northwestern
5. Jackson Morse, Illinois
6. Nestor Taffur (Unattached)
7. Tristan Warner, Old Dominion
8. Adam Fierro, CSU Bakersfield
9. Jesse Stafford, Air Force
10. Jon Schleifer, Princeton
11. Connor Brennan, Rider
12. Pat Robinson, Purdue
Pat Smith, Minnesota
Connor McMahon, SIU-Edwardsville
174
1. Mike Evans, Iowa
2. Zac Brunson, Illinois
3. Zach Epperly, Virginia Tech
4. Bryce Hammond, CSU Bakersfield
5. Kurtis Julson, North Dakota State
6. Alex Meyer, Iowa
7. Brock Gutches, Southern Oregon
8. Nate Jackson, Indiana
9. Burke Paddock, Iowa
10. John Sebastian, Northwestern (Unattached)
11. Chad Welch, Purdue
12. Connor Lefever, Wabash
184
1. Lorenzo Thomas, Penn
2. Jack Dechow, Old Dominion
3. Sammy Brooks, Iowa
4. Hayden Zillmer, North Dakota State
5. Ophir Bernstein, Brown
6. Vic Avery, Edinboro
7. Nikko Reyes, Illinois
8. Ricky Robertson, Wisconsin
9. Austin Gabel, Virginia Tech
10. Clint Morrison, Rider
11. Brett Harner, Princeton
12. Zach Hernandez, Columbia
Patrick Kissel, Purdue
Riley Lefever, Wabash
197
1. Nathan Burak, Iowa (Unattached)
2. Alex Polizzi, Northwestern
3. Abram Ayala, Princeton
4. Braden Atwood, Purdue
5. Nathan Rotert, South Dakota State
6. Timmy McCall, Wisconin
7. Joe Rau, Minnesota Storm
8. Jared Haught, Virginia Tech
9. Lucas Sheridan, Indiana
10. James Fox, Harvard
11. Vince Pickett, Edinboro
12. Shawn Scott, Northern Illinois
Kevin Beazley, Old Dominion
Anthony Abro, Eastern Michigan
Shane Siefert, UW Whitewater
Frank Mattiace, Penn (Unattached)
Canaan Bethea, Penn
285
1. Mike McMullan, Northwestern
2. Bobby Telford, Iowa
3. Connor Medbery, Wisconsin
4. Ty Walz, Virginia Tech
5. Evan Knutson, North Dakota State
6. Tyler Deuel, Binghamton
7. Jacob Henderson, Old Dominion
8. J.J. Everard, South Dakota State
9. Ray O'Donnell, Princeton
10. David Ng, Harvard
11. Garrett Ryan, Columbia
12. Brooks Black, Illinois
Marcus Malechek, Air Force